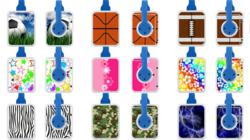 Bedwetting is a completely treatable, curable condition
Ashton, MD (PRWEB) August 07, 2012
It's only been a few months since the new Clippo Bedwetting Alarm by Rodger was introduced, but it's already become a customer favorite thanks to a simple innovation by The Bedwetting Store—alarm skins. Much like cell phone covers, these skins allow children to personalize their bedwetting alarm making them "cool" and giving children a greater sense of control over their bedwetting treatment.
"We honestly weren't sure how well the skins would go over," says Renee Mercer, pediatric nurse practitioner and co-owner of The Bedwetting Store. "But they've proven to be very popular with our customers and their kids."
80% of children naturally overcome bedwetting, or nocturnal enuresis, by age 5. But this still leaves 20% having regular bedwetting episodes. The spontaneous remission rate for nocturnal enuresis is approximately 15% per year—meaning that if your child is still bedwetting they have only a 15% chance of "growing out of it" within the year.
What many parents don't realize is that bedwetting is a completely treatable, curable condition. The most effective method is bedwetting alarms. Bedwetting alarms go off when they sense moisture, thereby conditioning children to respond to the sensation of a full bladder. Soon they'll begin waking up naturally on their own.
Bedwetting alarms have been around for nearly 50 years. Parents may be familiar with the older style of "bell and pad" alarm, but modern alarms are smaller, more comfortable, wearable and ultimately more effective. Many modern alarms include features such as various tones, vibration, or even the ability to record your own alarm tone.
"We've been selling alarms for over 10 years now," says Renee. "One of the things our customers have told us is that children are often more compliant if their alarm is 'cool.' That means different things to different kids. Some kids want a camo alarm. Some want to record their own alarm tone. So we got to thinking, why not make the alarms customizable?"
Currently, the Clippo alarm has 9 skin designs—Soccer, Basketball, Football, Aloha, Pink Flowers, Stars, Camouflage, Lightning and Zebra.
About BedwettingStore.com
The Bedwetting Store is America's one-stop shop for bedwetting items and waterproof bedding. They have helped tens of thousands of children—and adults—since their start in 2000. They are now the largest distributor of enuresis related products in the United States. The Bedwetting Store is proud to serve the millions of families who seek information and practical solutions to help children stop wetting. They feature a wide assortment of quality products at discounted prices. You'll find their information at your child's pediatrician's office, in many popular parents magazines and on the Web, of course. Just ask your child's health care provider about the Bedwetting Store. If they specialize in treating childhood wetting, they'll likely recommend one of their products.