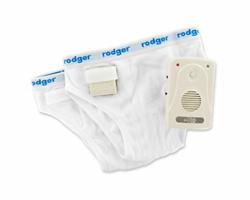 ...encouraging primary care physicians to ask about bedwetting can open up the discussion and lead to the successful treatment of bedwetting.
Ashton, MD (PRWEB) October 18, 2012
The Bedwetting Store, America's largest distributor of enuresis products, will be showcasing several childhood wetting treatments such as bedwetting alarms and vibrating reminder watches at the American Academy of Family Physicians (AAFP) Scientific Assembly from Oct. 18-20 (booth 641) in Philadelphia.
"Nocturnal enuresis, or bedwetting, affects one in five children," said Renee Mercer, nurse practitioner and president of the Bedwetting Store. "This trade show allows us to give healthcare providers a chance to actually see the most up-to-date bedwetting devices and become familiar with the best bedwetting treatments. We often hear from healthcare providers, 'I always recommend bedwetting alarms to my patients, but I've never actually seen one in person.'"
"We're also excited to present two new bedwetting treatments: the Dry-Me alarm, which will wake even the deepest sleepers, and the VibraLITE Mini vibrating watch, the smallest reminder watch available used to treat daytime wetting," Mercer continued. "Our customers have found great success in our bedwetting products; I think these new products will also become new favorites."
Research has found that bedwetting alarms produce the highest success rate and the lowest relapse rate of any other type of bedwetting treatment. Alarms, often worn on the body, are triggered when they detect moisture, thereby conditioning the user to respond to the sensation of a full bladder.
"Another reason why we attend these conferences is to give doctors a resource for their patients," Mercer said. "Since enuresis alarms are not available in pharmacies, we've created an online and print catalog so all families have access to these devices."
"Many parents hesitate to bring up nighttime wetting concerns to their child's doctor because they're embarrassed or think it's a reflection of their parenting skills," Mercer said. "However, encouraging primary care physicians to ask about bedwetting can open up the discussion and lead to the successful treatment of bedwetting."
About BedwettingStore.com
The Bedwetting Store is America's one-stop shop for bedwetting items and waterproof bedding. They have helped tens of thousands of children—and adults—since their start in 2000. They are now the largest distributor of enuresis related products in the United States. The Bedwetting Store is proud to serve the millions of families who seek information and practical solutions to help children stop wetting. They feature a wide assortment of quality products at discounted prices. You'll find their information at your child's pediatrician's office, in many popular parents' magazines and on the Web, of course. Just ask your child's health care provider about the Bedwetting Store. If they specialize in treating childhood wetting, they'll likely recommend one of their products.