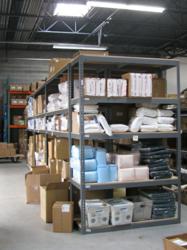 We never expected our business to expand this much, so we're very fortunate to have this new space.
Fulton, Md. (PRWEB) January 17, 2013
In 2001, Renee Mercer, a Certified Pediatric Nurse Practitioner, realized that there wasn't a nationwide, reliable source for the only curative method of treating bedwetting: bedwetting alarms.
Her dream soon became a reality after the launch of the Bedwetting Store, now America's leading supplier of bedwetting and daytime wetting products, such as bedwetting alarms and vibrating reminder watches. After 12 years of business, Mercer is excited to announce that the business is moving to a new office in the Maple Lawn community of Fulton, Md.
"We never expected our business to expand this much, so we're very fortunate to have this new space," Mercer said. "Maple Lawn is a growing community, and we hope to continue to grow along with it."
Today, the Bedwetting Store is a subdivision of Just Health Shops, a collection of 16 home medical supply stores that focus on specific needs such as incontinence and asthma. The company officially moved into its new facility, which is three times larger than its original location in Ashton, Md., on Jan. 7.
The new building features a large warehouse that provides a more efficient system for packaging and shipping items. New improvements in the call center include quieter cubicles and new phones for better customer service. The finance and e-commerce departments also expanded to provide additional work spaces.
The office is closed to the public and solicitors; customer pick-ups are unavailable. There is no showroom or physical store.
For more information about the new Maple Lawn location, contact a customer service representative at 1-800-214-9605 Monday-Friday from 8 a.m. to 6 p.m. EST. Please send orders, returns, and general correspondence to the Bedwetting Store's new address:
Bedwetting Store
11840 West Market Place, Suite H
Fulton, MD 20759
About BedwettingStore.com
The Bedwetting Store is America's one-stop shop for bedwetting items and waterproof bedding. They have helped tens of thousands of children—and adults—since their start in 2000. They are now the largest distributor of enuresis related products in the United States. The Bedwetting Store is proud to serve the millions of families who seek information and practical solutions to help children stop wetting. They feature a wide assortment of quality products at discounted prices. You'll find their information at your child's pediatrician's office, in many popular parents' magazines and on the Web, of course. Just ask your child's health care provider about the Bedwetting Store. If they specialize in treating childhood wetting, they'll likely recommend one of their products.