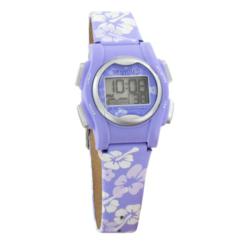 With the help of vibrating watches, our customers have seen huge improvements in their children's day time wetting problems.
Ashton, MD (PRWEB) November 08, 2012
Sometimes children get so preoccupied with their daily activities that they forget to use the bathroom. As a result, daytime incontinence, or daytime wetting, occurs. This poses an embarrassing dilemma for children and a challenging situation for teachers and caregivers.
An effective way to reduce wetting accidents is through timed voiding, where children empty their bladder on a regular basis, such as every two hours. For school age kids, this can be difficult because there isn't an adult available to remind them.
Vibrating watches help give kids a sense of control over their wetting, and it dramatically reduces the number of accidents. Vibrating reminder watches are often used in this bladder retraining process as they provide a silent, school-friendly reminder for children who 'wait until the last minute' or don't feel the urge to use the bathroom.
"With the help of vibrating watches, our customers have seen huge improvements in their children's day time wetting problems. That's why we're excited to introduce the VibraLITE Mini, the world's smallest children's vibrating watch. It is the only vibrating watch on the market with a watch face that is specially sized for a child", said Renee Mercer, pediatric nurse practitioner and president of the Bedwetting Store. "While we carry it as a bathroom reminder, parents tell us the watches can also be used for other reminders, such as chores or homework."
The VibraLITE Mini features both a countdown timer and a 12-alarm setting. The countdown mode counts down from a fixed time interval and then automatically restarts itself when the timer hits zero. For school aged kids, the 12-alarm feature allows the watch to go off at any specified time set around their school schedule, insuring they have easy access to the bathroom. Users can choose from vibration only, sound only, or sound and vibration. Plus, the reminder watch's lockout feature prevents children from accidentally resetting the alarms.
"With its fun and stylish designs, the VibraLITE series have been very popular among children. I anticipate this new vibrating watch will quickly become a customer favorite," Mercer said.
The VibraLITE Mini Watch is available in six different colors and designs: Purple Flower, Orange and Black, Pink, Black, and Navy Blue.
About BedwettingStore.com
The Bedwetting Store is America's one-stop shop for bedwetting items and waterproof bedding. They have helped tens of thousands of children—and adults—since their start in 2000. They are now the largest distributor of enuresis related products in the United States. The Bedwetting Store is proud to serve the millions of families who seek information and practical solutions to help children stop wetting. They feature a wide assortment of quality products at discounted prices. You'll find their information at your child's pediatrician's office, in many popular parents' magazines and on the Web, of course. Just ask your child's health care provider about the Bedwetting Store. If they specialize in treating childhood wetting, they'll likely recommend one of their products.