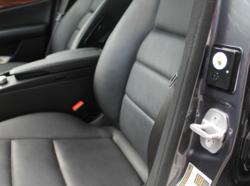 Orlando, FL (PRWEB) January 30, 2013
Bee-Alert Safety Products, LLC, a developer of children's safety solutions, is introducing a brand new alert system to reduce the growing number of cases involving kids being forgotten in automobiles and to help save the lives of children everywhere.
In the United States in 2012, there were 29 deaths of children from hyperthermia, eight in the first week of August alone, as a result of being left in cars. This adds to the 556 kids who've died from similar incidents in the US since 1998, which equals the loss of a child every week over that period.
The "Bee-Alert" is the solution to the growing distractions of today's world, ensuring children are never left in unattended vehicles. Developers worked through a long series of research and testing to create a product that's simple and effective for parents.
The child safety product helps parents by reminding them with a verbal prompt or "child alert" that an occupant may be present in the backseat. It operates with a light-activated LED sensor that is placed on the door frame, recognizing when a driver opens their door and reminding them to check the backseat.
The developers of the "Bee-Alert" are family-oriented individuals who wanted to put an end to the growing issue of children being left in cars and put in danger of hyperthermia. As a result of their experience as parents and grandparents, they sought to develop a product that saves lives.
At Bee-Alert.com, visitors can directly purchase the new safety system, as well as view expanded information and a full background on the product. They can also take advantage of special offers on the website.
About Bee-Alert Safety Products
Bee-Alert Safety Products, LLC was created by family individuals, both parents and grandparents, who understand the everyday issues in child safety. With conviction, research, planning and hard work, the "Bee-Alert" was developed as a product solution for the growing number of cases in which children have been left in automobiles. These devices help parents avoid distractions and preoccupation, and most importantly, help save the lives of children.