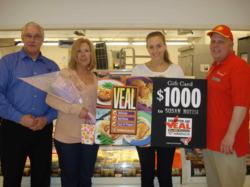 Denver, CO (PRWEB) May 18, 2011
The Beef Checkoff Program announced a winner in its recent veal promotion designed to help retailers expand veal sales. Susan Motisi of New Rochelle, New York was awarded $1,000 in free groceries. A frequent shopper of her local Super Stop & Shop, Motisi's winning entry was one of more than 200,000 received in the "Eat Better. Eat Veal!" sweepstakes.
The contest was part of a national checkoff-funded promotion, which ran from Jan. 17 through March 31, 2011, that aimed to raise awareness of how veal can be part of a healthy diet and encourage consumers to prepare veal more often at home. The 14 grocery chains and 1,231 stores that participated in the program promoted the sweepstakes through their weekly ads and in-store displays. On-pack recipe labels were featured on veal products and highlighted popular veal dishes including Fast Veal Parmigiana, a 268-calorie dish that can be prepared in less than 15 minutes.
"The incorporation of on-pack recipes labels was a driving success factor of this promotion," said Dick Ayers, a veal farmer from New York and chairman of the Joint Veal Committee. "Research shows that consumers respond well to recipe and preparation tips on the package. Our retailers agree; they tell us that recipe labels incentivize their shoppers to take a closer look at veal in meat case, especially when the label highlights a healthy home meal option."
In addition to in-store displays and the recipe labels, the checkoff worked with retailers to provide cross-promotional support on VealMadeEasy.com and run TV spots on the Rachel Ray Show, Dr. Oz and local news programs in the Northeast region. Together with online advertising on targeted websites, the campaign reached more than 3.5 million people.
"We are thrilled to see that one of our loyal customers was named the winner," said Bob Silver, store manager for Super Stop & Shop in New Rochelle, New York. "We look forward to working with the beef checkoff on future veal promotions to deliver the fresh veal cuts our shoppers want and enjoy."
For more information on the contest and upcoming veal promotions, visit http://www.VealMadeEasy.com.
About the Beef Checkoff Program
The Beef Checkoff Program (http://www.MyBeefCheckoff.com) was established as part of the 1985 Farm Bill. The checkoff assesses $1 per head on the sale of live domestic and imported cattle, in addition to a comparable assessment on imported beef and beef products. States retain up to 50 cents on the dollar and forward the other 50 cents per head to the Cattlemen's Beef Promotion and Research Board, which administers the national checkoff program, subject to USDA approval.
CONTACT: Laura Landoll, (303) 850-3364 or llandoll(at)beef(dot)org
# # #