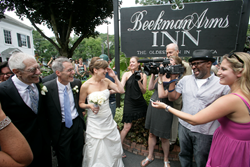 "It's a wonderful way to provide wedding guests with a full experience." - Phebe Banta, The Beekman Arms and Delamater Inn and Conference Center
Rhinebeck, New York (PRWEB) February 26, 2014
The Beekman Arms and Delamater Inn and Conference Center of Historic Rhinebeck have announced an uptick in hosting destination weddings. 1 in 4 couples (according to the Xo Group website) recently chose 'destination weddings', and of these couples, 70% selected a United States location.
The Beekman Arms and Delamater Inn and Conference Center have announced that they are noting similar trends, although they have not conducted a formal study. "We are seeing a substantial uptick in weddings which are being booked by couples from out of state, who come to Rhinebeck to give their guests a true vacation experience. With our historic village location, which is walkable to antique shops, fine dining, fabulous shopping, and a number of activities, the guests of the bride and groom can enjoy an entire weekend of fun while they are in town. And many of our couples are also encouraging their guests to experience our local wineries, golf courses, and historic sites, along with hiking, sailing, and everything else the Hudson Valley offers to tourists. It's a wonderful way to provide wedding guests with a full experience," stated Phebe Banta of the Banta family, owners of the Beekman Arms and Delamater Inn and Conference Center.
"The Hudson Valley really has it all," stated Mary Kay Vrba, Executive Director of Dutchess County Tourism. "When couples choose to book their weddings here, they are able to create a unique vacation for everyone who is part of their special day. There is something for everyone, and it is no surprise that our region is on the map for destination weddings."
The Inn itself, and Tavern at the Beekman Arms, both offer packages created to give a complete event with wedding coordinators who will work to enhance and customize each event. Overnight accommodations for the bride and groom, the wedding cake, and champagne toast are some of what is complimentary with a wedding package. There are several churches located with in walking distance and the Inn offers onsite both indoor and outdoor ceremony options.
For information on hosting a wedding or event, contact 845.876.1766.
About the Beekman Arms and Delamater Inn and Conference Center
Located in the heart of Historic Rhinebeck, New York, the Beekman Arms and Delamater Inn, a member of Historic Hotels of America, offers seventy-plus rooms and a state-of-the-art conference center, along with its tavern and restaurant, all walkable to countless attractions in the village. The Beekman Arms is America's oldest operating inn, and has welcomed famous guests throughout its rich history, from the likes of George Washington and Alexander Hamilton to Elizabeth Taylor and President Bill Clinton. Host to weddings, parties, community events, and corporate retreats, the Beekman Arms and Delamater Inn and Conference Center provide world-class accommodations to guests from all over the world. For more information, visit beekmandelamaterinn.com or call 845.876.7077.