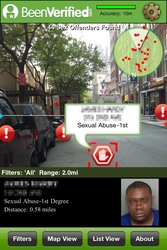 If you've seen my video, you know that keeping people safe from the threat of predators is an issue that's close to my heart
New York, NY (PRWEB) October 25, 2010
Safety and security - it's the most important priority for families and communities everywhere. In an effort to empower people amidst their ever-changing surroundings, BeenVerified.com, America's leading consumer background check and people search company, has released a new mobile app that provides users with access to the location of registered sex offenders through the lens of augmented reality. The new "Sex Offender Tracker" app, available for the iPhone and Droid, displays the exact location of registered sex offenders in real-time, along with detailed information on the sex offender residing at the location.
The application's features allow users to visualize their ever-changing surroundings. Users only have to open the app, point their phone down the street and follow the red dots that provide detailed additional information about registered sex offenders.
For the release of this app, BeenVerified.com has partnered with the Rape, Abuse, and Incest National Network (RAINN) and Antoine Dodson, star of the viral video hit "Bed Intruder Song" to help promote awareness about the crimes of sexual violence and the help available from RAINN's National Sexual Assault Hotline (800-656-HOPE and online.rainn.org). Five percent of all proceeds from the Sex Offender Tracker app will be donated to RAINN.
"We believe strongly in the power of technology to help keep people safe. Our "Sex Offender Tracker" gives people an easy-to-use tool to make sure they have even a little more information then they did yesterday," said Ross Cohen, Co-Founder of BeenVerified.com. "RAINN and Antoine Dodson are ideal partners in this effort. They believe so passionately in the need to prevent sexual violence and to provide help to victims. Moreover, they both have a unique voice to make a difference in this fight."
"I am grateful for the opportunities afforded to me over the last several months, but the opportunity to partner with BeenVerified.com and RAINN is something that makes me so excited," said Antoine Dodson. "If you've seen my video, you know that keeping people safe from the threat of predators is an issue that's close to my heart."
"In the ongoing effort to keep people safe from sex offenders, we need both effective tools and a broader awareness of the CRIME of sexual violence," said Scott Berkowitz, president and founder of RAINN. "With the introduction of BeenVerified.com's new 'Sex Offender Tracker,' we have a groundbreaking technology that will help us to prevent serial criminals from committing more sexual assaults. And we are thrilled to be working with Antoine Dodson, who is such a passionate advocate for survivors."
The application, which costs $1.99 on both the iTunes App Store and Android markets, requires the phone to be GPS enabled. The application is limited to adults 18 years of age or older.
Antoine Dodson's pitchman video promoting the Sex Offender Tracker App can be found on Youtube.
About BeenVerified.com
BeenVerified.com seeks to create innovative products through the convergence of new technologies and publicly available information. While large corporations have accessed public data for years, BeenVerified's mission is to empower individuals' with affordable and timely access to public record information that help keep people safe and informed.
About RAINN
RAINN (Rape, Abuse & Incest National Network) is the nation's largest anti-sexual violence organization and was named one of "America's 100 Best Charities" by Worth magazine. RAINN created and operates the National Sexual Assault Hotline (800.656.HOPE and online.rainn.org) in partnership with more than 1,100 local rape crisis centers across the country. The hotlines have helped more than 1.5 million people since 1994. RAINN also carries out programs to prevent sexual assault, help victims and ensure that rapists are brought to justice. For more information about RAINN, please visit rainn.org.
###