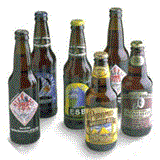 The Micro Beer Club has been providing quality beers since 1995. The Micro Beer Club currently ships to Alaska, Hawaii, Massachusetts, Maine, New Hampshire, Utah, and Texas. Their website and blog offer exclusive content and information for beer lovers.
Seattle, WA (PRWEB) September 26, 2013
There is an ongoing debate on whether canned or bottling provides the better beer. Often times, the canned beer casts an image of cheapness or low quality. This week, a new blog post from The Micro Beer Club, a Seattle based beer club, talked about the advantages and disadvantages of canned beer. Canning doesn't make beer lower quality, and in fact may provide some distinct advantages.
The article starts off by admitting that canned beers have a bad reputation because of lower quality brand names. However, what many people don't realize is that some of the top craft beers also come in cans. It is also arguable that beer in a can is unaffected by light, which means that canned beer could (theoretically) have a better taste than bottled beer. Contrary to popular belief, the beer inside of a can never touches the aluminum, but is rather comes in contact with the plastic lining inside the can.
There are some disadvantages to canned beer according to the article, however. It is debated that the BPA liner is ineffective, not preserving tastes. Canning can also be very expensive as a startup venture due to metal forming costs. Finally, beer cans are not reusable like bottles, and the melting and reforming costs time and energy. To read the full details, visit the article on The Micro Beer Club Blog: http://www.microbeerclub.com/why-beer-canning-isnt-a-silver-bullet/
About the Micro Beer Club
The Micro Beer Club has been providing quality beers since 1995. The Micro Beer Club currently ships to Alaska, Hawaii, Massachusetts, Maine, New Hampshire, Utah, and Texas. Their website and blog offer exclusive content and information for beer lovers and beer club members. Their website offers two beer club options containing the finest hand picked beers at exclusive prices. Contact them for more information:
The Micro Beer Club
14532 169th Dr SE Ste 114
Monroe, WA 98272
Customer Service Hours
Monday-Friday 9-5 (PT)
1.800.256.9853