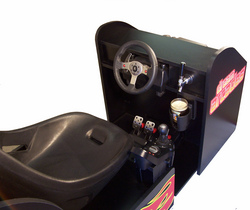 says Michael Ware, owner of Dream Arcades.
Sacramento, CA (PRWEB) October 15, 2008
Dream Arcades (http://www.DreamArcades.com), announces the launch and immediate availability of the Octane 120, the ultimate home arcade driving cabinet. The Octane 120 is the ultimate in home arcade gaming, and combines three things every adult gamer wants: classic arcade games, arcade-style racing, and a beer tap to get your favorite beverage without having to get out of the seat.
"We designed the Octane 120 to feature everything that a gamer could possibly want in a home arcade racing cabinet, including a beer tap, PC and PlayStation 3 compatibility, and a whopping 120" projection screen," says Michael Ware, owner of Dream Arcades. "We even have the user interface hooked up to Youtube and Hulu.com, so you can watch 80's classics like A-Team, Air Wolf, and The Fall Guy with friends between races."
Octane 120 Features:

120" HD Projection Screen
DLP HD Projector
2 Taps for the keg - Dashboard and back
12 Classic and Modern Arcade Racing Games
PlayStation 3 Compatible Steering Wheel
Home Theater PC
5.1 Audio System
Links to Hulu and YouTube to watch awesome classic 80's TV shows, movies, and viral videos
The Keg Tap supports any beverage available in a keg, including rootbeer, and sparkling apple cider for those gamers under 21. Dream Arcades does not condone drinking and driving. The Octane 120 is designed for entertainment purposes only, we hope that it will demonstrate the extent to which alcohol can impair judgment, and educate people on the dangers of drinking and driving.
For more information about the Octane 120, please contact Dream Arcades at media@dreamarcades.com or call: 916-761-6925. High resolution images are available.
About Dream Arcades LLC: http://www.DreamArcades.com:
Dream Arcades LLC is the leading manufacturer of home arcades and kits in North America. Since it's founding in a Folsom, CA garage in 2002, the company has maintained their goal of providing low cost, high quality video arcades for home use. Dream Arcades believes everyone should be able to play arcade games in the home and they shouldn't be limited to a mouse and keyboard. Home arcades are a great way to have fun. Whether used to recall childhood memories with classics like Joust, Pac-Man or Missile Command or simply enjoy today's hit games with the family, Dream Arcades believes everyone should be able to experience Michael Ware's dream.
###