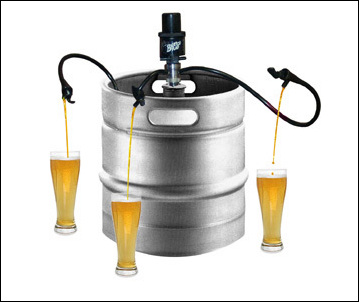 The Octopus Tap completely changed the dynamics of a recent large party
Lafayette, CO (PRWEB) July 24, 2006
Brew Innovations (BI) LLC, a new company developing innovative products for beer dispensing, today unveiled the Octopus Tap, a revolutionary concept in picnic pump taps. This Patented product allows up to 4 beers to be poured simultaneously from one standard keg of beer.
"The Octopus Tap completely changed the dynamics of a recent large party," said Tyra Forbes, a professional in the restaurant industry. "This new tap stopped the bottle neck at the keg, which allowed the party to spread out more evenly. It really made the party much more enjoyable."
The Octopus Tap was designed to more efficiently dispense beer from a keg. It comes in two styles, a 3 hose (shown below) and 4 hose tap.
The tap works like any standard picnic pump, pressure is applied to the keg by the hand pump and beer is poured from 1, 2, 3, or 4 faucets at one time. Parts are also available to connect this tap to CO2 to eliminate pumping.
Potential users of the product are hosts of social events where people normally are waiting to pour themselves a beer. Additionally, caterers, beer distributors, liquor stores, and tailgaters could use or rent this product to provide better service to their customers, and sell more beer. The Octopus Tap is available online and soon at your keg retailer.
About Brew Innovations, LLC:
Formed by two beer-drinking, homebrewing buddies in 2003, Brew Innovations LLC, is a new producer of innovative products for beer dispensing. The Octopus Tap is the first of several products currently in various levels of development. BI is headquartered in Lafayette, Colorado. Product development takes place in Hillsborough, North Carolina, and Colorado. For more information about BI and its products please visit http://www.octopustap.com or call 303-317-4381.
###