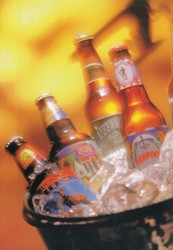 Clubs of America was featured in the Wall Street Journal as the Best Overall, Best Value, with generous shipments. That reputation combined with our 13 years experience shows from a our consistent top notch product quality and unparallel service to all of our members
Lakemoor, IL (PRWEB) December 7, 2007
Its time to face up to the holiday season's toughest challenges: finding the right gift for the person who has everything, and finding any gift that wont be forgotten in 48 hours.
Meeting this requirement - Clubs of America is pleased to announce Free $25.00 Club Cash for all holiday 12-month orders. Club Cash can be used towards merchandise or you can apply it towards a future order or renewal of a membership. With one-stop-shopping ease - are Clubs of America's uniquely customized "gift of the month clubs" in your choice of eight specialties: flowers, wine, fruit, coffee, chocolate, beer, pizza and cigars of the month.
Shipped direct with the freshest, finest quality, every Clubs of America (http://www.GreatClubs.com) gift is delivered straight to that special someone, safely and securely. And with such reasonable delivered prices, these are remarkably affordable luxuries.
"Clubs of America was featured in the Wall Street Journal as the Best Overall, Best Value, with generous shipments. That reputation combined with our 13 years experience shows from a our consistent top notch product quality and unparallel service to all of our members," says Doug Doretti, president of Clubs of America, the nation's largest provider of "gift of the month club" programs. "Our Beer Club for example features small American microbreweries that are flavorful, distinctive and fresh and chances are you've enjoyed them on vacation, but couldn't locate them when back at home. We put you back in touch by exploring the finest handcrafted beer this country has to offer and bringing them to your door."
More than 2.3 million shipments were sent to club members since 1994, says Doug, who says the members are from all types of demographics, "we even have a few important celebrities that are members too," says Doug. Customers love the association of these clubs while exploring fun social products like Clubs of America's Beer of the Month Club and the Wine of the Month Club.
"People are thrilled at being able to order a real variety of 'indulgences' from us," Doug explains, "and truly, you cannot make the shopping experience any easier." Not only do you completely avoid the hectic shopping mall; you also completely avoid the slightest compromise on quality with knowing an experienced company that's been around over a decade is behind your gift. At the same time, you know you're giving the gift over and over, so they remember you throughout the year."
Clubs of America gifts may be ordered at http://www.GreatClubs.com or by Phone at 1-800-CLUB-USA (1-800-258-2872). Last minute gift announcements can be printed or emailed conveniently online.
Clubs of America offers a unique gift for everyone on your list --
Beer of the Month Club: Receive a 12-pack of four types of fresh handcrafted microbrewed beer. ($31.95 each month including delivery)
Wine of the Month Club: Receive two different bottles of rare wine from around the world: all red, all white or mixed. ($38.95 each month including delivery)
Fruit of the Month Club: Receive five pounds of two different selections of the finest hand-picked fruit. ($31.95 each month including delivery)
Flower of the Month Club: Receive a theme bouquet direct from the world's finest growers. ($40.95 each month including delivery)
Chocolate of the Month Club: Receive a one-pound box of hand-dipped gourmet chocolate. ($27.95 each month including delivery)
Pizza of the Month Club: Receive three different Chicago pizzas shipped fresh frozen. ($44.95 each month including delivery)
Coffee of the Month Club: Receive two different 12-ounce bags of fresh roasted coffee, ground or whole bean ($25.95 each month including delivery)
Cigar of the Month Club: Receive five different hand-rolled premium cigars. ($30.95 each month including delivery)
Contact
Media Relations Dept.
Clubs of America
Tel: 815-363-4000
Fax: 815-363-4677
http://www.GreatClubs.com
###