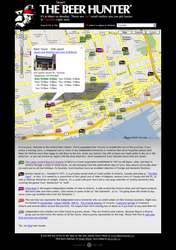 Toronto, ON (PRWEB) March 13, 2008
Beerhunter.ca, the Canadian website that helps you find open Beer Stores, LCBOs and independent beer and wine dealers in Ontario is appearing at a new exhibit at the Museum of Modern Art in New York. The critically acclaimed exhibit titled "Design and the Elastic Mind" is curated by Paola Antoneli, Senior Curator in the Department of Architecture and Design and curatorial assistant Patricia Juncosa Vecchierini. The exhibition is a collection of 200 items and projects and, "focuses on designers' ability to grasp momentous changes in technology, science, and social mores, changes that will demand or reflect major adjustments in human behavior, and convert them into objects and systems that people understand and use."
The beerhunter.ca site was conceived and created by Janis Mussat and Adam Putter, the principals of the Toronto web design and development company Bad Math Inc. Launched in November of 2005, the free service tracks in real-time which Beer Stores, LCBOs, independent winery stores and brewery stores across the province are open.
"Within 3 days of launching it, Beer Hunter had had over 30,000 unique visitors from word of mouth alone." says Ms. Mussat. "It really seemed to hit a nerve". Since it's launch, the site has maintained steady traffic with hundreds of visitors a day, with traffic peaking around weekends and holidays. "We built it because the LCBO and Beer Store websites displayed their information poorly and we knew that there was a better way to show people that data. It is, of course, a real honour to be recognized by the MoMA and to be in the company of such well-known designers and engineers."
Design and the Elastic Mind runs from February 24th to May 12th 2008. The web site features 300 projects, including all of the works from the exhibition and an additional 50 projects unique to the Web site. http://moma.org/exhibitions/2008/elasticmind/#/22
About Bad Math
Bad Math was founded in 2001 and specializes in building rich, unique-looking websites, cutting-edge web interface design and custom web application development. Their offices are located at the corner of King St. W. and Bathurst St. in downtown Toronto.
Contact:
Janis Mussat or Adam Putter
Bad Math Inc.
416-203-6632
info@badmath.com
###