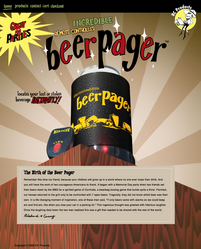 Okay. We have all lost a beer. It happens. You set it down for a moment, only to lose it seconds later. It's frustrating early in the night, but infuriating around 2:00AM. Enter the Remote Control Beer Pager
Lake Elsinore, CA (PRWEB) January 15, 2009
The struggle to find fun and memorable gift ideas for family and friends is over. Meet the BeerPager(tm), the electronic drink holder with fun sounds and flashing lights that can be activated by remote-control from up to 60 feet way.
"Okay. We have all lost a beer. It happens. You set it down for a moment, only to lose it seconds later. It's frustrating early in the night, but infuriating around 2:00AM. Enter the Remote Control Beer Pager," says Matt Burns at CrunchGear.
More than just fun, the BeerPagers are useful gifts. Their insulated holders keeps icy beverages cold longer while their sturdy bases protect against spills. Plus, at the press of a button on a BeerPager remote control, fun sounds and flashing lights ensure friends and family pickup their drink instead of someone else's. Send a BeerPager and become a gift-giving legend by visiting the BeerPager.com website.
BeerPagers for All Occasions:
There are BeerPagers to match popular past times. The BeerPager Golfer cheers on players as they drive the tee. The BeerPager Biker looks great in motorcycle photos. The BeerPager Casino keeps high-rollers company while they play. Last, but not least, the classic BeerPager Belcher keeps drink guzzlers, refrigerator raiders and remote control hoarders entertained.
BeerPager Sights and Sounds:
At the press of a button on their pocket-sized remote control, each battery-powered BeerPager plays fun game sounds using its built-in speaker and flashes bright lights around its base. The BeerPager sights and sounds can be triggered from up to 60 feet away to crank-up the fun at parties, gamedays, poker nights, weekend barbecues and other get-togethers.

The BeerPager Golfer shows an avid player driving the tee. Press its remote to hear a ricocheting golf shot miraculously land in the cup and watch the base light-up in shock and awe.
The BeerPager Biker pictures an outlaw rolling down the highway in style. Press its remote to watch the light show and hear a motorcycle start and rev its engine.
The BeerPager Casino captures a high-roller jumping for joy after hitting a jackpot. Press its remote to hear a slot machine payout and watch the lights flash with envy.
The classic BeerPager Belcher catches a refrigerator raider in action. Press its remote to flash the lights in warning and then hear a deeply satisfying family guy burp.
The Birth of the BeerPager:
The BeerPager began with a Memorial Day party when two friends set their beers down by the BBQ for a spirited game of Cornhole, a beanbag tossing game that builds quite a thirst. Parched, the heroes returned to the grill only to be confronted with seven open beers. Tragically, they did not know which beer was their own. In a life changing moment of inspiration, one of these men said, "If only beers came with pagers so we could beep 'em and find 'em, like when you lose your car in a parking lot." This ingenious thought was greeted with hilarious laughter. Once the laughing died down the two men realized this was a gift that needed to be shared and the BeerPager was born.
For additional information or to request a review sample, visit the BeerPager website at BeerPager.com.
About the BeerPager:
BeerPagers are patent-pending electronic drink holders with fun sounds and flashing lights that can be activated by remote-control from up to 60 feet way. They make memorable gifts for friends and family and are available in styles to match popular past times. BeerPagers are available from gift shops and specialty catalogs or online at the BeerPager.com store.
About RC Products:
Located in Southern California, RC Products was founded to bring BeerPagers to the world. Reseller inquiries are welcomed. For more information, contact RC Products directly or visit the BeerPager.com website.
BeerPager, the BeerPager designs and the RC Products logo are trademarks or registered trademarks of RC Products, LLC in the United States and/or other countries. All other brand and product names are trademarks or registered trademarks of their respective holders. Information is subject to change without notice.
###