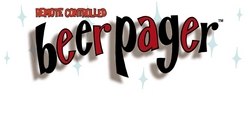 "It's better to burp and taste it than fart and waste it. Boy that's good...Git-R-Done," says the Larry The Cable Guy BeerPager!
Lake Elsinore, California (PRWEB) June 7, 2010
The struggle to find a Father's Day gift is over. Just "Git-R-Done™" by sending your dad a Larry The Cable Guy BeerPager for under $25 from the online store at http://www.BeerPager.com and he'll never forget this Father's Day!
BeerPagers crank-up the fun at parties, game days, poker nights, weekend barbecues and other get-togethers. At the press of a button on their pocket-sized remote control, each battery-powered BeerPager plays fun sounds using its built-in speaker and flashes bright lights around its base from up to 60 feet away. Plus, BeerPagers keep icy beers cold longer and protect them from accidental spills.
Cold beer + remote control + electronic gadget = perfect gift for dad!
There are other BeerPagers to match popular past times. The BeerPager Golfer cheers on players as they drive the tee. The BeerPager Biker looks great in motorcycle photos. The BeerPager Casino keeps high-rollers company while they play. Last, but not least, the classic BeerPager Belcher keeps drink guzzlers, refrigerator raiders and remote control hoarders entertained. Visit the BeerPager website to see and hear them in action.
  
About the BeerPager
The BeerPagers are unique remote-controlled electronic drink holders with sights and sounds for under $20. They can be activated from up to 60 feet away using their pocket-size remote, make memorable gifts for men—friends, coworkers, boyfriends, husbands, sons, fathers, grandfathers, and uncles—and are available in styles to match popular past times. BeerPagers are available from gift shop, specialty catalogs and online stores.
For additional information or to request a BeerPager review sample, visit the BeerPager website. Distributor, catalog, and reseller inquiries are welcomed.
About RC Products
Located in Southern California, RC Products was founded to bring BeerPagers to the world. Reseller inquiries are welcomed. For more information, contact RC Products directly or visit the http://www.beerpager.com website.
BeerPager, the BeerPager designs and the RC Products logo are trademarks or registered trademarks of RC Products, LLC in the United States and/or other countries. All other brand and product names are trademarks or registered trademarks of their respective holders. Information is subject to change without notice.
# # #