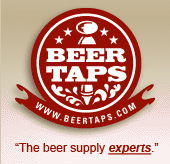 (PRWEB) November 18, 2012
E-commerce retailer Beertaps.com has prepared well in advance for the busy holiday season by adding more than 100 different tap handles to their already diverse inventory.
Beertaps specializes in beer supplies and accessories, including kegerators, liquor pourers, beer memorabilia, and much more. To make holiday shopping easier, Beertaps now boasts a fully stocked tap handle selection with dozens of brands to choose from.
Customers can purchase beer tap handles in popular categories that include logo, novelty, generic, pub style, mini beer, and scratch and dent handles (where great bargains can be found!). Customers with home bars will appreciate this vast selection to pair the beer tap handle of their choice with a home draft system or kegerator.
Owner Stan Schubridge provides his insight, "We pride ourselves in offering the perfect tap handle for any beer drinker. We have a complete selection of domestics and imports in countless sizes that can be customized to your home bar."
He continues, "For the holidays, we hope that Beertaps will be the one stop shop for beer accessories and unique tap handles, given the complete selection we have to offer. Customers aren't likely to find this many choices in one place anywhere else online. That's exactly why we upped our inventory far before Christmas - to make holiday shopping even easier."
According to Schubridge, many home bar owners love the holiday gift of a personalized or customizable tap handle. Beertaps offers one-of-a-kind handles like a chalkboard tap handle, where erasable messages can be written, as well as a dry erase board handle to jot down a quick note.
Novelty handles for the unconventional beer enthusiast include a holiday-inspired Santa Claus tap handle, a palm tree tap handle, a leprechaun tap handle, a dragon tap handle, and even a beer bottle tap handle for a dose of irony.
Nonetheless, the most popular tap handle selection by far within the Beertaps inventory is logo tap handles that offer a professional look and feel to a home bar. Favorite brands displayed on tap handles include Amstel, Bass, Becks, Blue Moon, Bud Light, Coors Light, Dos Equis, and much more.
Home bar owners who are serious about presentation will appreciate Beertaps' assortment of pub style handles to create a pub environment away from a crowded bar setting. Pub handles include Boddingtons, Budweiser, Foster's, Harp, Miller Genuine Draft, and more.
First-time and repeat Beertaps customers are guaranteed an extensive selection of tap handles fully in stock, just in time for the holidays. Customers can visit http://www.beertaps.com directly to shop for personal needs or Christmas gifts, with affordable tap handle prices starting as low as $34.95 on some sale items.
For further questions or for help with online shopping, customers can contact Beertaps directly at 1-866-444-8282 from 9 AM to 5 PM Monday through Friday. Beertaps, the number one source for all party needs, provides customers with prompt shipping on most in-stock items within just 24 to 48 hours, ensuring timely delivery before the holidays.