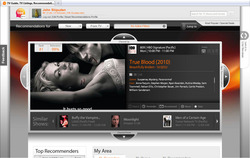 "BeeTV's mission is to make TV usable again," said CTO & Co-Founder Yaniv Solnik.
San Francisco, CA (PRWEB) September 29, 2010
BeeTV, a TV show and movie recommendation service that helps consumers find content on the television, web and mobile platforms, today announced the launch of the BeeTV online service into public beta (http://www.bee.tv), as well as the BeeTV Guide App for iPhone and iPod touch, available now on the App Store.
The BeeTV service enables TV and movie fans to receive personalized recommendations, based on their individual tastes and preferences, from the over 10 million TV shows, movies, and original web series options that are available each month on over-the-air broadcast, cable and satellite television, the web and mobile devices.
"BeeTV's mission is to make TV usable again," said CTO & Co-Founder Yaniv Solnik. "BeeTV sorts through the many TV show and movie options that are available cross-platform then delivers a highly personalized, and customizable, experience including a recommendations-based TV guide, similar show discovery, customizable lists and trending shows," said Solnik.
The company's public beta launch follows an invite-only private beta during the summer which was focused on developing a better understanding consumer behavior, requests and feedback. "During our private beta we received great feedback and suggestions from both online and mobile users. We fine-tuned the web site and built the BeeTV Guide App to make the overall service more customizable, faster and more socially connected. We listened to users and as a result have a product that is packed with new and improved features," said Solnik.
The full BeeTV service includes:
New and Enhanced BeeTV Platform

Enhanced recommendation engine including
o New cold start process that enables users to receive personalized recommendations after rating only 5 shows
o New, patent-pending best-time-to-air algorithm
o Improved semantic analysis algorithm and collaborative filtering that improves recommendation accuracy
o New trending shows feature
o New social recommendations based on followed friends

New top recommenders leader board, following and social connectivity to Facebook and Twitter
Enhanced search including title, cast and director
New Facebook Connect integration across web and mobile platforms for easy registration and log-in
An Enhanced Web Site User Experience

New "3D" surfing User Interface across content recommendations, channels and similar shows
New BeeTV Lite UI that presents a dashboard style view of the users recommendations, trending shows, customized lists and other settings
New BeeTV Guide App for iPhone and iPod touch

New Custom Lists Feature to easily create a personalized TV guide based on:
o Platform: Broadcast, Cable, Satellite, web or mobile
o Recommendation engine, trending shows algorithm or standard channel listings
o Filters by Genre, Show Type, Ratings, HD-Only and Free/Paid

Trending Shows on TV, Web and Mobile
New push notification reminders and email alerts
iTunes integration to easily purchase content
Location Based Services allow user to change ZIP and TV provider on the fly
"Now more than ever, TV and movie fans can quickly get to the content they want to see, when they want to see it and on their platform of choice without having to channel surf," said Rodolfo Hecht Lucari, CEO & Founder. "BeeTV is made by and for TV and movie fans who consume video content on converging platforms and we want to be the go-to resource for the consumer's discovery and decision making process."
The BeeTV online service is available at http://www.bee.tv.
The BeeTV Guide App is available for free from the App Store on iPhone and iPod touch.
"Like" BeeTV on Facebook and follow us on Twitter @bee_tv.
About BeeTV
BeeTV is a TV and movie recommendation service designed to help consumers find content that is relevant to them on the television, web and mobile platforms. Founded in 2007 by leading media and technology veterans, BeeTV is headquartered in Milan, Italy, with a technology team in Herzliya, Israel and a business office in San Francisco. The company is backed by Innogest, the leading Italian venture capital firm.
Multimedia Links
YouTube: http://bee.tv/.1tpkw4g
Daily App Show: http://bee.tv/.12zp58d
Public Relations / Media Kit / Screenshots / Logos
BeeTV Press Page: http://bee.tv/press.html
The Bee Buzz Blog: http://www.bee.tv/blog/
###