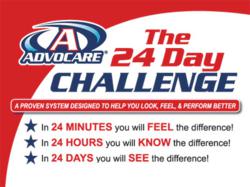 Mary Rolfs praised the challenge, "I did the AdvoCare 24-Day Challenge. It is a healthy eating plan supported by AdvoCare supplements. That was three months ago and I'm still following it. I have more energy, sleep better and just feel great!"
Delafield, WI (PRWEB) May 24, 2012
During the 24-day nutritional challenge, members and guests are invited to explore the path to energized performance, wellness, fitness, strength, vitality, rehabilitation energy, weight management and friendship with the help of the of incredibly talented and passionate employees of Be Fitness and Wellness Center.
Be Fitness and Wellness Center member Mary Rolfs praised the challenge, "I did the AdvoCare 24-Day Challenge. It is a healthy eating plan supported by AdvoCare supplements. That was three months ago and I'm still following it. I have more energy, sleep better and just feel great!"
The Be Fitness and Wellness Center founders developed their unique approach to fitness by focusing their talent on helping Lake Country residents in Wisconsin reach their personal health, fitness and wellness goals and to live healthier, longer and younger lives. Whatever the fitness goal, the professional staff at Be Fitness and Wellness Center, located adjacent to the Delafield Hotel uses their combined knowledge and passion for exercise, wellness and fitness using state-of-the-art facilities to unlock the individual potential of members with a customized program.
Learn more about the 24-Day Nutritional Challenge and Be Fitness and Wellness Center by visiting http://www.befitnesscenter.com or calling (262) 646-4727.