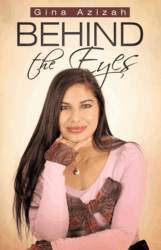 "While I've dealt with many traumatic things in my life, this story is more than despair," says Azizah. "It is a story of survival and courage to inspire women to be strong and follow their dreams."
London, England (Vocus/PRWEB) April 13, 2011
Can a childhood of sexual and physical abuse lead to a life of inspiration for others?
Gina Azizah's childhood was not filled with storybook vacations and holidays but with a father who was physically, mentally and sexually abusive. Her new autobiography, Behind the Eyes, is a remarkable first-person account of her childhood in Malaysia enduring intense abuse to her moving to London for school to becoming the first Muslim aerobic instructor in Malaysia.
When she was 5, her father took out his anger on her by damaging her genitals with mashed chilies and burning her eyes her with a flaming torch. Her grandfather, a Muslim priest, tried to rape her as well – and this was just some of the abuse she endured.
"While I've dealt with many traumatic things in my life, this story is more than despair," says Azizah. "It is a story of survival and courage to inspire women to be strong and follow their dreams."
Becoming an aerobic instructor in Malaysia and eventually moving to London for her collegiate studies helped Azizah find courage and inspiration to have a better life, without dwelling on her abusive past.
Behind the Eyes captivates audiences with a dramatic and truthful recount of abuse in a story of inspiration about having no fear and moving forward in life.
"Behind the Eyes is a true story that teaches people how to be mentally strong," says Azizah.
Behind the Eyes
By Gina Azizah
ISBN 9781450205627
Paperback 5.5 x 8.5 Retail Price $22.95
Available at http://www.amazon.com and http://www.barnesandnoble.com
About the author:
Gina Azizah was born in rural northern Malaysia and later moved to Kuala Lumpur where she nurtured an interest in aerobics. She has studied in London at several colleges including Radcliffe where she received a R.S.A. Certificate in English. Her hobbies include exercise and shopping.
Megan Giannini
BohlsenPR
mgiannini(at)bohlsenpr(dot)com
317 – 602 - 7137
###