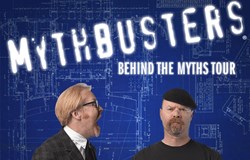 (PRWEB) October 07, 2013
Adam Savage and Jaime Hyneman, co-hosts of the show "Mythbusters," are hitting the road this fall in their "Behind the Myths" tour. The Emmy-nominated Discovery Channel show utilizes the scientific method to test the validity of myths, rumors, movie stunts and more. In their road tour, Savage and Hyneman hope to bring that excitement to their fans.
The "Behind the Myths" tour will feature on-stage experiments, audience participation, videos and stories from behind the scenes of the hit TV show. Guided by Jamie and Adam, fans will have the chance to take part in the mythbusting process for the first time ever. The "Behind the Myths" tour will have more than 30 stops, with dates listed below:
Oct. 12 – San Francisco, Calif., Orpheum Theatre
Oct. 13 – San Diego, Calif., Civic Center
Nov. 20 – Midland, Texas, Wagner Noël Performing Arts Center
Nov. 21 – El Paso, Texas, The Plaza Theatre
Nov. 22 – Mesa, Ariz., Mesa Arts Center
Nov. 23 – Costa Mesa, Calif., Segerstrom Center For The Arts
Nov. 24 – Bakersfield, Calif., Rabobank Theater
Nov. 25 – Reno, Nev., Pioneer Center For The Perf. Arts
Nov. 26 – Boise, Idaho, Velma V. Morrison Center For The Performing Arts
Nov. 28 – Calgary, Alberta, Southern Alberta Jubilee Auditorium
Nov. 29 – Edmonton, Alberta, Northern Alberta Jubilee Auditorium
Nov. 30 – Saskatoon, Saskatchewan, TCU Place
Dec. 1 – Regina, Saskatchewan, Conexus Arts Centre
Dec. 3 – Minneapolis, Minn., The State Theatre
Dec. 4 – Milwaukee, Wis., Milwaukee Theatre
Dec. 5 – Akron, Ohio, E.J. Thomas Hall
Dec. 6 – New York, N.Y., Beacon Theatre
Dec. 7 – Buffalo, N.Y., Shea's Performing Arts Center
Dec. 8 – Detroit, Mich., Fox Theatre
Dec. 10 – Columbus, Ohio, Palace Theatre
Dec. 11 – Richmond, Va., Landmark Theater
Dec. 12 – Bethlehem, Pa., Sands Bethlehem Event Center
Dec. 13 – Baltimore, Md., Hippodrome Theatre / France-Merrick Perf. Arts Ctr.
Dec. 14 – Lowell, Mass., Lowell Memorial Auditorium
Dec. 15 – Providence, Rich., Providence Perf. Arts Ctr.
Dec. 17 – Norfolk, Va., Chrysler Hall
Dec. 18 – Greensboro, N.C., War Memorial Auditorium
Dec. 19 – Augusta, Ga., William B. Bell Auditorium
Dec. 20 – Birmingham, Ala., BJCC Concert Hall
Dec. 21 – Huntsville, Ala., Mark C. Smith Concert Hall
Dec. 22 – North Charleston, S.C., North Charleston Perf. Arts Center
The show has been described as family friendly and appropriate for all ages. Fans of the popular Discovery Channel show should secure "Behind the Myths" tickets soon to what promises to be an unexpected evening. Right now SuperStarTickets.com has an exclusive offer on Mythbusters tickets. Fans can save 6% with the code MYTHBUSTED.