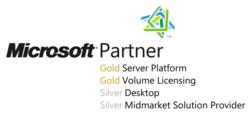 The new Microsoft Partner Network requirements are much more stringent than in the past and we're very excited to have met the bar so quickly after they were introduced.
Reston, VA (Vocus/PRWEB) March 02, 2011
BEI (http://www.beinetworks.com) today announced it has achieved Gold Server Platform and Volume Licensing Competencies in the Microsoft Partner Network, demonstrating its ability to meet Microsoft customers' evolving needs in today's dynamic business environment. To earn a Microsoft Gold Competency, organizations must complete a rigorous set of tests to prove their level of technology expertise, have the right number of Microsoft Certified Professionals, submit customer references and demonstrate their commitment to customer satisfaction by participating in an annual survey.
BEI services businesses, healthcare practices and associations throughout the metro D.C. area, providing out-sourced IT services including network design, implementation and ongoing support including managed services. Areas of focus include business continuity planning, online services/cloud computing and network infrastructure as well as end-user support.
"Gold Competencies in Server Platform and Volume Licensing ensure our customers that we have demonstrated the highest, most consistent capability and commitment among partners within these specific Microsoft business solution areas and have proven to have 'best-in-class' solutions that passed a rigorous and auditable approval process to demonstrate customer value," said Mike Jennings, President of BEI. "We're extremely proud that our employees have passed the necessary Microsoft exams and we're thankful that our clients helped us by supplying references. The new Microsoft Partner Network requirements are much more stringent than in the past and we're very excited to have met the bar so quickly after the new requirements were introduced."
"The Microsoft Partner Network is designed to empower solution providers to succeed in today's business environment. By achieving the prestigious Gold competency, participating companies are provided with a rich set of benefits, including increased customer visibility through branding and accessibility, training and support," said Jon Roskill, Corporate Vice President, Worldwide Partner Group at Microsoft Corp. "We are proud to put forth a program that provides the right resources to help a company develop the expertise customers demand in today's competitive market and also provides the community and infrastructure that can connect them to one another, lowering costs for all parties."
The Microsoft Gold Competency signifies to the market that a company has demonstrated the highest level of skill and achievement within a given technology specialization. All 29 Microsoft competencies are designed to help differentiate a partner's specific technology capabilities, helping customers find solution providers quickly and easily. Each competency has a unique set of requirements and benefits, formulated to accurately represent the specific skills and services that partners bring to the industry. BEI has also attained Silver Competencies in Desktop Solutions and Mid-Market Solutions Provider.
Server Platform: By attaining the Microsoft Server Platform competency, BEI has demonstrated expertise in building, designing, deploying, and supporting the Windows Server operating system, Windows Server–based applications, and the Microsoft server infrastructure. And BEI is better positioned to help support their customers' business strategies through high levels of availability, agility, and automation.
Volume Licensing: For BEI's customers, acquiring and managing software licenses can be complex and daunting. BEI's expertise in Volume Licensing helps clients obtain the most appropriate and cost-effective licensing solutions.
The Microsoft Partner Network is designed to equip organizations that deliver products and services based on the Microsoft platform with the training, resources and support they need to provide their customers a superior experience and outcomes.
BEI installs and services Microsoft-based networks for healthcare practices and other businesses throughout the Metro D.C. area. BEI clients trust the firm to advise them, help them invest wisely, and leverage their computer networks so they can focus on what's really important – running their business.
# # #