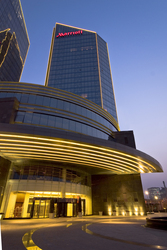 To be successful in our business, there is one rule to live and cook by - maintain the authenticity of your dishes
Beijing, China (PRWEB) October 30, 2009
Authentic is the word that best describes Chef Mangilal Kurly of Marriott International. During the past several years, fusion cuisines have become widely popular around the world. Kitchens have mixed and matched flavors and textures to produce intriguing new cuisines to entice diners. Chef Kurly has run several successful restaurants, but he has not followed the fusion trend. Instead, he has remained dedicated to keeping his cooking style simple and original, vowing that it is the only way to present truly great Indian cuisine.
"To be successful in our business, there is one rule to live and cook by - maintain the authenticity of your dishes," said Chef Kurly who is now the Chef de Cuisine of Beijing Marriott Hotel Northeast. He is also the mastermind of the hotel's main restaurant Tamarind one of only a few restaurants in Beijing that serves fine Indian cuisines.
When asked why many Beijing restaurants that claim to serve authentic cuisine fail, Chef Kurly answers candidly, "Because they are not good enough."
What exactly sets the standard for a great authentic restaurant? Let's take a close look at Chef Kurly's recipe for culinary excellence.
Q: What is so special about Tamarind?
Kurly: It is Marriott International's first Indian restaurant outside of India. In the past, some of our restaurants in international markets may serve a few Indian courses in their menus. But Tamarind is entirely devoted to authentic Indian food.
Q: This assignment must be very challenging, right?
Kurly: Yes it is! For instance, there are more than 15 commonly used spices in Indian cooking. Some of them are not available in Beijing and we have to import them from India.
One top of spices, we have to ensure that Tamarind gets the best possible local ingredients. In order to source those quality products, my colleagues and I go down to the fresh market to shop around. We conducted numerous cooking and tasting trials with different produces before officially accepting them for our restaurant.
Q: What is your winning formula for Tamarind? Have you adjusted the style or taste of some of the dishes so that they can better suit the local customers?
Kurly: We try to keep our cuisine as authentic as possible. What we do is select dishes that are more popular in China and integrate them into the menu with other exciting traditional dishes.
Q: How is this selection process carried out? By intuition?
Kurly: While culinary excellence is an art, running a culinary business is a science. We are able to keep the pulse on local customers by observing and talking to them.
For instance, Butter Chicken in Tomato Gravy is one of our best selling dishes. Customers told us that they liked it because it was spicy yet a little bit sweet and sour. Local customers also liked to order Jeera Rice as Jeera is a popular type of spices in China. With all this first-hand feedback from customers, it is not difficult to fine-tune our menu to make it be more attractive.
Q: On top of keeping your dishes authentic, how do you win the hearts of customers?
Kurly: Dining in a fine restaurant should be a well-rounded experience from satisfying your taste buds to appreciating visually pleasing surroundings and other sensory enjoyments. One of the innovations that Tamarind brings to the market is its open kitchen concept. We have put four tandoori ovens in the open area of the restaurant. Guests can see how our chefs prepare the dishes. They can smell the aroma before actually tasting them. Guests feel welcomed and enjoy this feature very much.
One of the challenges of having a fine Indian feast is that we have so many delicious dishes. Guests are intrigued by the dishes but cannot order all of them, so they come back for more in order to get a taste of the versatility of Indian cuisine.
Tamarind came up with a very clever solution to help our guests. It is similar to a buffet concept. For RMB140 (plus 15% service charge) per person, a guest can first sample eight dishes in small portions - Murgh Malai Kebab, Achari Chicken Tikka, Chicken Seekh Kebab, Lamb Seekh Kebab, Tandoori Lamb Chops,Mutton Shammi Kebab, Dal Makhani, and Naan (plain/ butter/ garlic). Once they have decided on a favorite, they can make their decisions on what to order for main course. There is also a vegetarian version of this offer priced at RMB100 (plus 15%).
Q: What are the signature dishes of Tamarind?
Kurly: I would say it is Murgh Malai Kebab (Chicken breast marinated with cream cheese and flavored with cardamorn). The meat is cooked in a way that makes it soft and tender. It can melt in one's tongue! Lasooni Jhinga (Jumbo prawns in a marinade of chili powder and yogurt, flavored with fried garlic and cooked in tandoori) is also a dish you should not miss.
Mangilal Kurly, Tamarind, Beijing Marriott Hotel Northeast
Chef Kurly, native of Jharkand, India, started in the kitchen as a trainee under the stewardship of master chefs at the Kempinski Mumbai. He joined the opening team of JW Marriott Mumbai in 2002 and elevated the status of its Saffron restaurant to becoming one of India's leading restaurants. Marriott has provided chef Kurly with a global platform to expand the Indian cuisine and share his art with chefs around the world. His first international opportunity was to do an Indian food promotion at the JW Marriott Hong Kong in 2006. He now brings his version of Indian cuisine to China.
# # #