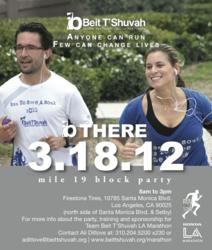 People think I can't do it, but I am going to do it anyway. - Kaylee Bowling
Los Angeles, CA (PRWEB) March 09, 2012
Beit T'Shuvah, Los Angeles's premier non-profit addiction treatment facility, will be a stronger presence than ever at next week's Honda LA Marathon. The organization's "Run to Save a Soul" campaign, now in its third year, raises funds that will contribute to the charity's ongoing mission: To provide treatment for anyone seeking help regardless of their ability to pay. Currently Beit T'Shuvah has raised $95,000- three quarters of the way to its goal of $125,000. Beit T'Shuvah is the only Jewish charity that offers a full six-month training program, comprehensively preparing the team to complete the 26.2-mile run across Los Angeles.
Forty-six runners -- many of whom are residents in recovery at the treatment facility – are ready for the big day on March 18, 2012. For these dedicated souls, most of whom are first-time marathoners, the challenge of completing a 26.2-mile race is an apt analogy for overcoming adversity and finding the determination within to accomplish great things in their lives. Many addicts who walk through the doors of Beit T'Shuvah feel unaccomplished, and running a 26.2-mile marathon, no small feat by anyone's standards, can help to break down the walls of self-destruction and open the door to self-worth. "It reminds me, while I am out there running, that dreams do come true," says Dana Hill, Head Shift Change Counselor at Beit T'Shuvah, who herself is in recovery and an ex-con. "The whole time I was in prison I dreamed about running the L. A. Marathon. I used to watch it in prison every year on TV.
This year, Beit T'Shuvah was one of the limited number of charities that offered the new "two-man" team entries for the marathon. In a striking testament to teamwork and the power of fellowship and cooperation, a member of each two-man team will run the first 13.1 miles to a transition zone, where their partner will take their place and complete the second half of the journey to the finish line. They will then receive their medals together. "People don't think I can do it, but I'm going to do it anyway," says 14-year-old Kaylee Bowling, the youngest member of the "Run to Save a Soul" team. Bowling will share her medal with Beit T'Shuvah alumnist Justin Rosenberg. Not only in recovery from addiction, Rosenberg suffers from Crones disease. Rosenberg's will to be a sober and a strong, healthy participant and Bowling's fiery spirit make for a truly inspiring team.
Beit T'Shuvah invites anyone who would like, to please join them in cheering on their team members as they celebrate this momentous event in their lives. They will be hosting a "Run to Save a Soul" Block Party at mile 19 of the course, on the corner of Santa Monica Boulevard and Selby Avenue in West Los Angeles from 8am – 3pm. A Sunday you will surely remember, there will be live music and food, as community members come together for the forty-six individuals, who have persevered and will reach the finish line in spite of their pasts and because of their determination.
We still need your help to meet the fundraising goal!
To find out how YOU can help save a soul and get more details about sponsorships and or donations, please contact Ali Ditlove at 310-204-5200, ext. 230 and or visit: http://www.beittshuvah.org/Marathon
About Beit T'Shuvah:
A Jewish-based rehab, Beit T'Shuvah's mission is to provide emotional and spiritual healing to individuals and families afflicted with addictive and behavioral disorders. It is the only addiction treatment program in the United States that integrates Jewish traditions and spirituality, the 12-step program, and traditional psychotherapy. They never turn anyone away due to their financial situation. For more information please visit: http://www.beittshuvah.org
###