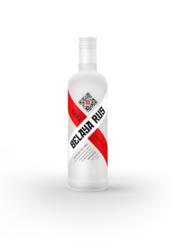 2012 is already a "Prost-perous" year for us. Our latest award and new marketing relationships confirm it: the future of Belaya Rus Vodka is clear and bright.
Madison, WI (PRWEB) February 15, 2012
Beverage importer Gvardia LLC has declared 2012 the year of the new Prost-perity, the year when the quality to value ratio of America's Midwest will be raised by Belaya Rus Vodka. With the official debut of Belaya Rus expected this spring, Gvardia is already toasting three successes that bode well for the company in 2012 and beyond. Thus far this year, Belaya Rus has earned a Gold Medal and "Exceptional" rating from the Beverage Tasting Institute, signed with an exclusive distributor L'eft Bank Wine Company, and brought in the marketing prowess (and whimsy) of a "Chief Evangelist."
Literally on New Year's Day, Belaya Rus earned a rating of 90 points (Exceptional) and the title "2011 Best Buy Bar Competition – Best Value Vodka $15 and Under" with the International Review of Spirits Award: Gold Medal. The tasting was held at the Beverage Tasting Institute's Chicago tasting room.
Tasting notes on Belaya Rus describe the 80 Proof Belarusian vodka as: Clear. Aromas of shredded wheat, cream, and nuts, with a silky dryish light-to-medium body and touch of honeycomb, pepper, and stones on the gentle finish. At less than $15 a bottle, Belaya Rus delivers a high quality vodka at a great price. "This award is a tremendous global honor, but also a great sign that Midwesterners will love both the taste and the price of Belaya Rus," commented Victor Agapov, Gvardia CEO.
Back in Wisconsin, Gvardia scored another coup this month with distributor L'eft Bank Wine Company. L'eft Bank is the leading fine wine and spirits distributor in the state.
According to Agapov, L'eft Bank Brands Manager Richard Serrano offered L'eft Bank's services right on the spot. Richard was surprised by his vodka's taste, bottle and label design, multiple awards, Minsk Kristall Distillery history and especially, high value at a low price.
Serrano concurs, "I don't impress easily but Belaya Rus is an exceptional vodka for the price.
We're thrilled to welcome Belaya Rus to our product portfolio. I believe it will be an instant hit in our market."
That's exactly what Gvardia is banking on. But Agapov isn't taking any chances. Instead he's turning to his high-powered relationships. The company's third January announcement is the hiring of Mary Zinn to the position of Chief Evangelist. "Mary was instrumental in putting the L'eft Bank deal together. While she brings incredible marketing skill to the position, it's her belief in our mission to bring a quality vodka to the market at an incredible value. The Chief Evangelist title sums up perfectly her tactical and "spirits-ual" contributions to the Belaya Rus launch-- also known as the Great Vodka Revolt of 2012," says Agapov.
Zinn has over 15 years of business development and marketing experience in the Silicon Valley and will continue in her current role as director of marketing for a growing software company in Madison, WI. As Belaya Rus chief evangelist, she's charged with raising the regional profile of the Belarusian vodka which she says is going to be easy. She's quite candid about the company's image-building strategy for Belaya Rus, "We start by raising a glass. If necessary, we raise another glass. After that, the product pretty much sells itself."
Produced by Belarus-based Minsk Kristall Distillery, Belaya Rus Vodka is expected to be available in Wisconsin in April 2012 and Minnesota and Illinois soon following.
For more information about Belaya Rus Vodka:
http://www.belayarusvodka.com/ or http://www.facebook.com/BelayaRus.
L'eft Bank Wine Company: http://www.leftbankwine.com
Gvardia LLC is a diversified import company with headquarters in Madison, Wisconsin.
For more information about Gvardia LLC visit http://www.gvardiacompany.com.
###