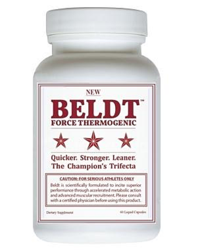 ...I've been weight-training my whole life...and I've got to say, BELDT ranks among the best... Very, very impressed.
Los Angeles, CA (PRWEB) October 10, 2011
Faced with ever-swelling waves of competition, today's athletes are consistently forced to seek new and better ways to stay on top, be it anabolic or thermogenic. Accordingly, every supplement retailer from Anchorage to Zanzibar also winds up flooded with more and more "performance enhancing" products which turn out to be either unsafe, or promise far more than they deliver. Sometimes both.
Every so often, however, a unique brand steps forth to set the new standard. Still weeks shy of its official Halloween launch, BELDT: Force Thermogenic™ has already managed to harness high laurels from top athletes and UFC training centers all across the U.S. The Force Thermogenic, specially designed and developed for pro fighters, is formulated to incite explosive muscular action and advanced thermogenesis.
"Explosive lands you the belt; everything else comes second," says SkyHook Nutrition, LLC President, James Atkins, himself a lifelong fitness enthusiast and former martial artist. "It's not about quick, it's not about strong, and it's not about lean. It's about all three. That equals explosive. And that's what makes a champion."
According to research conducted through one leading sports pharmaceutical consulting firm, a certain key component contained within the supplement's superior quality triple blend actively provides "the precursors and conversions agents necessary for optimization of nerve conduction, [which increases strength] through the power of multiplication: using more muscle fiber in a given movement, which equals greater gains and hypertrophy in a shorter period of time." This action is further enhanced by the synergy between BELDT: Force Thermogenic™'s key component and various other ingredients. In addition, the supplement accelerates lipolytic and thermogenic activity, leading to greater breakdown and utilization (burning) of visceral and subcutaneous fat stores.
BELDT: Force Thermogenic™ has even managed to extend its "explosive" allure beyond the octagons, as well. Florida powerlifter and strongman, John Melvin, recently implemented his pre-ordered Force Thermogenic into an intense weight-training regimen, with great results.
"I've been weight-training my whole life, and probably used just about everything out there," says Melvin, "and I've got to say, BELDT ranks among the best. Really, it's got everything I look for in a pre-workout supplement. Very, very impressed."
Melvin chooses to combine (or "stack") his BELDT with pure NO2 (nitric oxide) and creatine monohydrate, two of the most widely used and effective sports performance supplements on the market today, both of which BELDT: Force Thermogenic™ was specifically designed to complement. SkyHook Nutrition, LLC also has plans to launch its own pure NO2/creatine blend, NOTCH™, as well as a Force Feed™ Post-Workout Protein Binge™ sometime in the near future.
Could BELDT: Force Thermogenic™ be the next step in advanced athletic performance? If all the preemptive buzz has anything to say about it, that may very well be.
BELDT: Force Thermogenic™ is slated for an official Halloween, 2011 launch. In the meantime, you can secure all pre-orders here.
About SkyHook Nutrition
SkyHook Nutrition, LLC, designs superior quality dietary supplements for the Force Performance Athlete (Fighters, Powerlifters, et al.) whose training requires much more explosive action than the average athlete. SkyHook Nutrition, LLC is a proud member of the National Association of Sports Nutrition. For more information, please visit http://www.beldt.com/
###