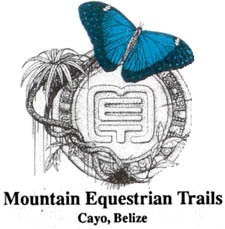 The focus will be for participants to learn survival techniques in a jungle setting and on the Belizean cayes.
San Ignacio, Belize (PRWEB) May 12, 2010
Mountain Equestrian Trails (MET) is pleased to announce their new "Sapodilla Survival Training" package for groups of 10-12. The 11-night, 12-day package includes camping, horseback riding, river and dry-cave exploration, swimming, bird-watching, sea kayaking, snorkeling and much more. The focus will be for participants to learn survival techniques in a jungle setting and on the Belizean cayes. The new survival training package is a perfect alternative for travelers who are looking for a unique learning and cultural experience when they visit Belize.
The group will visit Mayan ruins, hang out with a Maya family, and spend some time in local villages. Participants will learn about the use of rainforest medicinal plants, and the practical use of plants and natural resources for making shelter and finding food. After seven days inland, the group will drive down the Hummingbird Highway, stopping at the Blue Hole for a refreshing swim, arriving at the beach in Placencia where they will stay for three nights. One of those nights will be spent camping overnight at an isolated caye. Survival techniques for this portion will be learning to navigate, orienteering, making fire, finding and cooking food. Other activities are swimming, snorkeling, kayaking and sailing.
This package is suitable for student groups, high school or college, church groups or families. The minimum size for a group is six persons, maximum twelve. Itineraries and activities can be customized to meet the specific needs of your group. Some aspects of this package are physically demanding, in that members will need to be able to hike and kayak for several miles on some days.
Tours begin on June 5th and July 17th. Ask about availability for other dates. Please reserve early to avoid disappointment.
US $1155 per person. Includes room, meals, transfers, activities, entrance fees, taxes. Does not include tips or departure tax (US $39.50 per person).
Sapodilla 11 Night – 12 Day Itinerary For Groups
DAY 1: Pickup at International Airport. Arrive at MET after a long day's journey, relax and decompress to the sounds, smells, and views of the jungle valley before having a lamp-lit dinner with the hosts and retiring to a cabana for the night.
DAY 2: Today's horseback ride is a cultural experience as group members travel to Nohoch Sayab River cave at Barton Creek. The trail meanders through a Mennonite community and observe ancient farming practices using tools such as horse-drawn plows and buggies. As visitors make their way down the steep narrow road to the valley floor, they will be astounded by the size of fruit trees and tropical flora in the fertile Barton Creek valley. Arriving at Barton Creek, step into a canoe and paddle upstream in the shade of a huge vine-covered limestone cliff and then suddenly disappear, paddling deep into the sparking stalactite formation river cave. Afterwards, enjoy a swim and a delicious lunch before returning on horseback to MET.
DAY 3: Guided hike to a secluded hidden valley with exotic tropical vegetation and excellent opportunities for sighting colorful rainforest birds and iridescent butterflies. Enjoy lunch at the swimming hole. Return to MET and prepare for a 2 night camping trip to Sapodilla Falls. Dinner and Overnight at MET
DAY 4: Horseback riding to a remote campsite and learn how to find and utilize rainforest resources in order to make a temporary camp. Camping in the Don Elijo National Park. The focus will be on learning jungle survival techniques. Explore caves, and water falls in the area. Practice using jungle medicinal plants, and begin to learn how to live off the land. The campsite is based at the bottom of the secluded Sapodilla Falls.
DAY 5: Today after breakfast, ride the horses to a Mayan burial cave to learn about Mayan archaeology, and natural resource conservation. In addition, group members will practice the survival skills they have been learning, explore the surrounding areas, and swim in the beautiful clear waters of the river. This will be the second night camping.
DAY 6: After breakfast, break camp, pack up, saddle the horses, and head out, watching always for tropical birds, butterflies, and perhaps even wild cats, tapir, or other exotic animals. Return for dinner and overnight at MET.
DAY 7: Green Hills Butterfly Ranch, visit Maya family, Mayan ruins, shopping in San Ignacio. Dinner and overnight at MET.
DAY 8: After breakfast; board the vehicles for a transfer to Placencia. Along the way, stop to swim at the Blue Hole National Park, then enjoy lunch at Seakunga Expedition Company. In the afternoon there will be an orientation on kayaking and navigation, then dinner and overnight at Seakunga.
DAY 9: Set out by boat to camp on a secluded island while learning orienteering, navigation, and proper kayaking techniques. Make camp and enjoy a dinner of fresh-caught fish.
DAY 10: Swimming, snorkeling and kayaking near the reef. Camp overnight on the island.
DAY 11: After breakfast, swimming, snorkeling and then take a boat back to the mainland. Prepare to leave the next day. Dinner and overnight at Seakunga.
DAY 12: Depart from Placencia to Belize International Airport by van.
Activities inland: swimming, horseback riding, cave exploration, hiking, bird-watching, tracking, jungle survival, making shelter, fire, finding food.
Activities at sea: swimming, snorkeling, kayaking, making fire, cooking, finding food.
About Mountain Equestrian Trails:
Mentioned in "1,000 Places to See Before You Die," by Patricia Schultz, Mountain Equestrian Trails is owned and operated by the Bevis family. Owners, Jim and Marguerite Bevis, have been operating the lodge since 1989 and have strongly advocated ecotourism principles both in their own lodge and in tourism businesses throughout the country of Belize. They are co-founders of Slate Creek Preserve, a community based nature preserve and the Belize Ecotourism Association. Based in the heart of Slate Creek Preserve, MET has a strong reputation for both innovation and professionalism within the equestrian community and has expanded into the wider field of adventure tourism.
Offering both horseback riding and vehicle tours to nearby caves, waterfalls, and Mayan ruins, MET is situated in tropical moist broadleaf limestone karst forest within close proximity to the Mountain Pine Ridge Forest Reserve. Jaguars, pumas, ocelots, tapir and a multitude of colorful tropical birds and butterflies live within the rainforest habitat surrounding MET.
Media Contact:
Marguerite Bevis, Owner
Mountain Equestrian Trails
(800) 838-3918
http://www.metbelize.com
For Reservations:
Alice B. Wilhoit
US Reservations Manager
Mountain Equestrian Trails
(800) 838-3918
http://www.metbelize.com/contact.html
MET Discover the Adventure
http://www.facebook.com/metbelize
http://twitter.com/metbelize
# # #