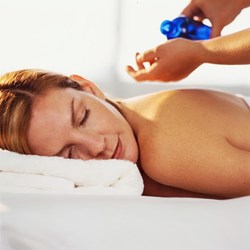 Bella Body Massage delivers a therapeutic spa escape.
Delray Beach, FL (PRWEB) August 19, 2013
The Bella Body Massage is rapidly becoming a smashing success at Bella Reina Spa in Delray Beach, FL. The "go-to" spa for South Florida celebrities and smart spa-goers created this luxurious spa treatment that is being featured by Groupon this week.
The idea for the Bella Body Massage was conceived when Bella Reina's lead therapists decided to create the perfect massage. For that to happen, one must have a one-hour massage, sugar back scrub, aromatherapy infusion, Rose oil facial massage and a pressure-point foot massage. Each part of the Bella Body Massage is infused with aromatherapy and sensory triggers that transport clients to a stress-free spa escape.
The glowing sugar back scrub exfoliates the skin with pure cane sugar crystals and skin softening safflower oil. The Rose Oil has a cult-following because of its age-reversing damascene rose otto and sandalwood that rejuvenate with a heavenly scent. Featured in Harper's Bazaar as a Hot 100, the Rose Oil is an absolute must for the Bella Body Massage. With the combination of aromatherapy, massage, compresses, scrubs, exfoliation, and luxurious oils, the new Bella Body Massage delivers a therapeutic spa escape that balances the mind and restores the soul.
For more information on the new Bella Body Massage and to reserve your therapeutic spa escape now, call Bella Reina Spa at 561-404-7670.
About Bella Reina Spa
Bella Reina Spa, in Delray Beach, FL, is the leading provider and definitive authority on beauty, wellness and spa treatments in the South Florida area. The spa is dedicated to providing outstanding services and anti-aging treatments, like the non-surgical facelift or the slimming infrared body wrap, to guests with busy lifestyles. Bella Reina Spa was created by Nancy Reagan, a nationally-recognized expert in beauty, nutrition, weight loss, skin care and makeup. Nancy and Bella Reina Spa have been featured in the New York Times, WebMD, Les Nouvelles Esthetique & Spa, and PC Advisor for spa industry expertise and business success. To learn more about how Bella Reina Spa is constantly innovating spa services, programs and packages, please visit BellaReinaSpa.com.