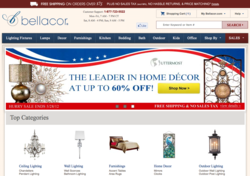 "We wanted to focus on the user, everything from having the right products to improving user experience on the site," says Chris Fowler, Marketing Director at Bellacor.com
Minneapolis, Minn. (PRWEB) May 24, 2012
Bellacor.com unveiled their new e-commerce website today as part of the Grand Re-Opening Celebration. Completely re-engineered from look and feel to improved navigation, the new Bellacor.com captures everything their loyal customers love in a refreshing new way. "We wanted to focus on the user, everything from having the right products to improving user experience on the site," says Chris Fowler, Marketing Director at Bellacor.com. After months of A/B and usability testing Bellacor.com is confident the launch of be a major improvement for its customers.
This launch marks a strategic development for Bellacor.com. Over the past 12 years, Bellacor.com has experienced significant growth from marketing channel testing and optimizations, by working with demand, optimizing customer service and building strong relationships with vendors ultimately leading to better prices and experiences for their customers. Now with the new website Bellacor.com offers an even stronger benefit to customers and vendors.
Visitors to the new Bellacor.com will discover a new look and feel with familiar hints of popular navigational paths. Some of the site's improvements include:

Bold new design: Modern graphics, improved product pages, enhanced mobile experience and new categories
Easy navigation: Usability testing enhanced navigation with consistent and improved advanced search along with a streamlined cart and checkout process
Bellacor.com plans to continually improve the site through champion vs. challenger and usability testing. With the launch Bellacor.com is running a number of promotions in lighting and decor including; lamps, chandeliers, and home decor. Additionally Bellacor.com will have limited time offers on Kichler and Murray Feiss lighting.
Bellacor.com's professional website, BellacorPro.com is also getting improvements to better serve trade professionals. BellacorPro.com is a one-stop shop for professionals who want convenience, selection and expert advice in the lighting and decor industry. With over 25,000 design/build professionals BellacorPro.com can offer trade discounts, custom quotes, free shipping on most orders and 500,000 products to choose from.
About Bellacor.com:
Bellacor.com is committed to helping the customer beautify their home or workplace by providing unparalleled selection and personal service through an easy shopping experience. Bellacor.com respects and tries to satisfy the customers' individual style and personal preferences.
Bellacor.com offers access to over 500,000 products from 700 manufacturers. Consumers can browse the featured items or choose a personal, customized service through its Personal Shopper, Price Quote Service and Project Portfolio shopping services. These services enable customers to find specific products, match competitive prices and manage their building or remodeling projects with the assistance of a Bellacor.com Product Specialist.
SOURCE Bellacor.com
RELATED LINKS
http://www.bellacor.com
http://www.bellacorpro.com