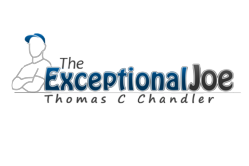 It's a shame that companies turn over. One thing I learned a long time ago...it's not about the company, it's about the people
(PRWEB) May 20, 2011
With the number of MLM companies struggling increasing, so does the number of network marketers in doubt of their future.The Exceptional Joe, Thomas Clay Chandler aims to help these struggling individuals find success in this business.
Every year, more than one MLM company closes or goes under. As such, hundreds if not thousands of network marketers are left hanging. There are different ways a company can collapse which makes choosing the right company very important for network marketers.
Thomas Clay Chandler, the man behind The Exceptional Joe blog understands the industry and this need to work with a stable company. This year alone, there are several MLM companies that have been shut down or have voluntarily closed shops. Whenever something like this happens, the distributors are left in limbo, something that Chandler is looking to rectify.
While Mr. Chandler can do nothing to keep companies afloat, he believes that this business is about the people, not the companies. He has therefore made it one of his primary goals to help struggling network marketers from different companies.
As a network marketer for more than a decade, Thomas is drawing on his wealth of experience to gauge how successful a company could be. This enables him to find not only the best companies to work with but also make it easy for him to lay the groundwork for any business.
By extending his help to struggling marketers, Thomas Chandler is looking to improve the lives of people involved in the industry.
Thomas Chandler is not working alone though. He is connected to the top people in the industry and is working alongside them. This collaboration with successful network marketers means he absorbs more information about the industry which he can then share with struggling network marketers.
Working with people like Thomas Clay Chandler is one major key to having long-term success along with having products that the market place is screaming for.
###