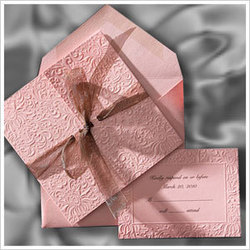 To complement the assortment, the online real-time proofing system let's couples see and share their wedding invitations before ordering.
Plano, TX (PRWEB) March 18, 2008
Today, BellaWeddingInvitations.com has introduced many new styles of wedding invitations to complement existing formal and traditional invitations. Styles range from traditional floral themes and a more formal focus to the introduction of fresh color combinations and unique types of construction like tri-fold invitations and shapes. Working with top-tier suppliers such as Carlson Craft (providers of the Jean M Collection and Royal Doulton lines) and Birchcraft allows Bella to stay current on trends for today's discerning brides and grooms. Always wanting to make each specific wedding special, Bella Wedding Invitations provides online ordering that allows customization and personalization of wedding invitations specific to each and every order.
"Although BellaWeddingInvitations.com is relatively new in the online wedding invitation market, it has quickly established itself with a broad selection of invitations and stationery that meets or exceeds the expectations of today's trends and styles," said Kevin Strawbridge, VP of Marketing at Bella. "To complement the assortment, the online real-time proofing system let's couples see and share their wedding invitations before ordering."
The peak wedding season in the United States is late spring to early fall each year. Typically couples must begin the ordering process for wedding stationery about six months in advance of the planned wedding date. This provides adequate time to receive the invitations, address them or have a calligrapher do so, and get them in the mail with requisite time for responses. With Bella's state-of-the-art website, it is able to display a broad selection of unique wedding invitations in an easy to navigate format. The ordering process allows couples to try different verses and fonts to communicate the right theme and message. Also, the online proofing provides the opportunity to see exactly what is being ordered before it is printed and shipped. With free, pre-printed samples available, Brides and Grooms can see and feel the quality of the invitations first hand. Ultimately the couple can rest assured that they are making the right selection the first time.
About BellaWeddingInvitations.com
BellaWeddingInvitations.com was founded in 2004, and has quickly distinguished itself as a valued dealer for companies like Carlson Craft and Birchcraft - the leaders in supplying wedding invitations and stationery. Recognizing that most Brides and Grooms are extremely busy with life in general, let alone the process of planning for a wedding, Bella prides itself on delivering a direct-to-consumer experience that is second to none. From the elegant look and feel of the site with easy-to-use navigation features to the online proofing system, couples can rest assured that they are in control of the ordering process when and where they need it. Bella also provides uncompromising customer support via its Invitation Experts that are available daily by phone. By offering free samples of invitations, Brides and Grooms can have actual invitation choices sent directly to them to touch and feel the quality of the paper and the experience the elegance of the printing. Day in and day out, Bella constantly strives to add new styles, more colors and enhanced functionality to the process so that engaged couples know they can come to one place - BellaWeddingInvitations.com - to buy their wedding invitations.
###