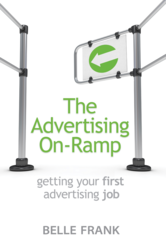 New York, NY (PRWEB) March 31, 2013
Just in time for Graduation 2013 comes the must-read for college seniors and new graduates in communications, marketing, and advertising. And just about every other field, as well.
"The Advertising On-Ramp: Getting Your First Advertising Job" (Paramount Books, $19.95) is the first book to take the suddenly-out-of-school through the hiring process at big advertising agencies.
Author Belle Frank, a senior executive at Madison Avenue powerhouse Young & Rubicam, draws on more than 25 years' experience to address the many issues—professional and personal—that marketers encounter when interviewing and hiring.
Graduates looking for that first job will receive a step-by-step tutorial to getting hired. Frank explains how to make a resume jump out of the pile; how to handle job interviews—preparing for them, what to do and say during them, and how to follow-up afterward; and what skills agencies look for most. She also uses real-life examples to show how good candidates can become must-hires.
In clear and readable fashion, with honesty and humor, Frank answers the basic question every job-seeker wants answered: What will make me the person they want to hire?
"The Advertising On-Ramp" is also required reading for advertising and marketing professionals responsible for attracting and developing new talent, as well as those advising graduates about career choices.
Nearly all of Frank's sage advice applies to recent graduates looking for that first job in any field. And young employees looking for help getting their second and third jobs will get a leg up, too.
"With wisdom, humor, and straight talk, Belle offers a clear road map to success. In an age when competition for jobs is at an all-time high, this book offers dead-on practical advice that will help anyone be a stronger job candidate."
—Lynn Appelbaum, Professor and Director, Advertising/PR Program,
The City College of New York
"The Advertising On-Ramp" will be released on April 15, 2013, and is available for pre-order on Amazon at:
http://www.amazon.com/The-Advertising-On-Ramp-Getting-First/dp/0985179511
# # #