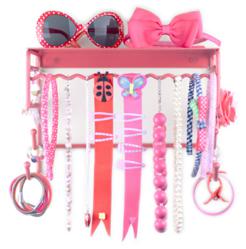 Morning routines are busy. The 'Bella' keeps hair ties, barrettes and jewelry organized and easy-to-view, reducing time and frustration while getting your daughter ready each day.
Orlando, FL (PRWEB) June 29, 2011
BelleDangles is expanding their line of jewelry organizers with the introduction of the "Bella," and the "Mini," both available now. The new designs have the same look and feel of the popular "Classic," recently featured in Real Simple Magazine (June 2011), but were created to fit in smaller spaces.
The Bella is an innovative kids' organizer designed to keep young girls' and teens' accessories neatly, yet stylishly, displayed. Petite and pink, the organizer holds more than 75 pieces including head bands, hair ties, barrettes, bows and jewelry.
"The Bella was created with moms of little girls in mind," said Diana Unay, Co-founder of BelleDangles. "Morning routines are busy and the Bella keeps barrettes, bows, and jewelry, organized and easy-to-view to reduce time and frustration in getting your daughter ready for her day. Measuring at 10in x 7in x 6in, the pink design adds flair to any girl's room."
The BelleDangles Mini is a smaller version of the Classic Jewelry Organizer. Measuring at 10in x 7in x 6in, the Mini holds 75 pieces of jewelry and accessories, including necklaces, stud and dangle earrings, bracelets, rings, scarves, hats, belts, handbags, and more! The Mini fits nicely in most bedrooms, dorm rooms, or closets and keeps jewelry collections tangle-free. All of the BelleDangles organizers feature a shelf on top — perfect for a mirror, picture frame, candle, or additional storage.
"We are extremely excited about the release of the BelleDangles Bella and Mini," said Becca Falkowski, Co-founder of BelleDangles. "We're proud to deliver on our customers' requests to design a more compact jewelry and accessory organizer for women and young girls who are looking for a solution to jewelry box clutter."
Unlike jewelry boxes, BelleDangles keeps jewelry and accessories in their place solving the issue of tangled necklaces and missing earrings. Plus, because it is displayed on the wall, it saves space on dressers and counter tops.
"BelleDangles was designed to highlight womens' individuality," Falkowski added. "Our line of organizers provides a functional backdrop for women to showcase their style through the jewelry and accessories they display."
However you dress it, BelleDangles looks like a beautiful piece of art highlighting the style and color of the jewelry you love. See it, love it, and accessorize in seconds every day!
For more information, visit BelleDangles.com or contact info(at)belledangles(dot)com.
About BelleDangles:
Incorporated in Florida in May 2009, BelleDangles is an innovative product line of jewelry and accessory wall organizers designed to organize and display all types of jewelry and accessories, making collections easy-to-find, untangled, and clutterfree. BelleDangles promotes style within tidiness for women of all ages as a chic way to display their jewelry and accessories. Alleviating the clutter and chaos of tangled, unorganized accessories creates a harmonious environment that saves times and reduces stress.
###