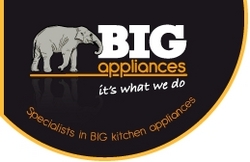 (PRWeb UK) September 8, 2010
Big Appliances, whose family run Essex white goods business has been making headlines recently for its ethical pricing policy (unlike what seems to be a large proportion of the competition, Big Appliances doesn't charge for delivery and has never included hidden subscription fees in the prices of its products), is continuing to make a media splash with its online collection of Belling range cookers.
It's becoming apparent, from Big Appliances continuously varied choice of cookers, fridge freezers and makes thereof, that their intention to branch out from well respected wholesaler to successful retailer is well off the mark and running with some style. It's becoming apparent, when one looks at the full spectrum of range cookers available on the Big Appliances site, that there's something to suit every lifestyle and budget. Even more so, when one turns specifically to the Belling cooker selection they've settled on, which incorporates the best of both worlds: a little bit of town and a little bit of country. The Belling Kensington is very much the in between, here (and offered, by Big Appliances, at a massive average saving of more than 20% off the recommended retail price) – delivering the kind of style one would expect from a town house kitchen on the edge of the country.
Belling range cookers go all out for the farmhouse with the Classic selection, modern versions of the old school beauties that used to fire granny's kitchen up back when everyone was still young. Again, Big Appliances has managed to deliver some pretty impressive discounts on this Belling cooker, presumably thanks to its list of impeccable industry contacts. It does help, when branching out in to the private customer sphere, if one has nearly 50 years' worth of wholesale supplier discounts on one's side. Nice to see, though, that Big Appliances is actually passing these discounts on, rather than keeping all the money to itself. Though, again, one supposes that's what happens when a genuine family business manages to make good without losing sight of where it came from.
Big Appliances' full on town line of Belling range cookers is represented by the stylish DB4 Professional. Yes, it sounds like an expensive car; and yes, it does, to some extent, look like an expensive car. It also operates either as dual fuel or fully electric, depending on preference and available power sources – and its' Big Appliances discount takes it from over one thousand pounds to just under, making a possible price drop between the categories of mid range top end and affordable top end. Just the thing for installing in those city dwellings.
Once again, then, Big Appliances has unveiled a range of choices that outlines its commitment to making the jump between white goods wholesale (where, over the years, the company has made a hugely respected name for itself) and the supply of excellent quality range cookers (including the Belling cookers referred to here) for a domestic clientele. On this site, there really is something for everyone.
###