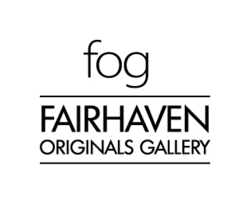 We are thrilled to give people access not only to beautiful artwork but also to our talented artists who will be attending the opening
Bellingham, WA (PRWEB) June 17, 2010
Fairhaven Originals Gallery will be hosting a grand opening celebration from 5pm to 9pm on the evening of Friday, June 18th at their gallery in the historic district of Fairhaven. This will be a rare opportunity to not only see the most exciting original art being created today but to also meet the artists in person.
Notably acclaimed artists such as Ann Fleming, Mary and Jacques Regat, Lea Kelley, Deborah Jang and Richard Bulman will be attending and available to discuss their art and answer questions.
Executive chef, James Pitzer, back from Dallas, Texas, will be providing a selection of gourmet hors d'oeuvres during the event.
Gallery curator, Caitlin McInnis, will be on hand to greet everyone. "We are thrilled to give people access not only to beautiful artwork but also to our talented artists who will be attending the opening," said McInnis. "These unique artists will make ours a destination gallery for art lovers from Seattle, Oregon, Canada, and, of course, Bellingham."
fog | Fairhaven Originals Gallery displays an exciting collection of hand-picked original art representing the very best in a variety of media. Bronze, assemblage, ceramic, wall sculpture, and much more are displayed in their beautiful and large gallery space in the historic Fairhaven District of Bellingham, Washington, located in the Pacific Northwest.
About fog | Fairhaven Originals Gallery
fog | Fairhaven Originals Gallery is owned and operated by local entrepreneur and art enthusiast David McInnis. The gallery is located at 960 Harris Street, Suite 103 in the Fairhaven district of Bellingham, Washington.
# # #