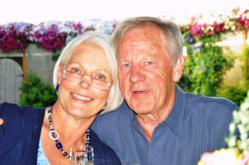 New start ups require a lot of time, but this one has allowed us to not have worked a day yet
Bellingham, WA (PRWEB) December 14, 2011
When Ernie and Velma Henken started a specialized service for Bellingham Airport Parking needs primarily focused on a great Hawaiian send off to those flying direct to Honolulu from the Bellingham International Airport, little did they know they truly captured a niche. For Ernie, other than taking a day off for fishing, he has worked steady since the 1st of March but in his words, he'll say "I haven't worked a day yet".
Wiki Wiki Park n Shuttle requires a reservation as they are not open 24 hour s a day. With confirmation of one's reservation comes unexpected personal service for you, your family and friends. By limiting the hours of their operation, it affords pockets of time to take care of additional family needs, such as elderly care as well as the blessing of 2 grandchildren who live only doors away.
The enjoyment of being of service to others has been very fulfilling in many ways. Meeting new people, sharing a variety of tips to the various locations of travel and thus being blessed with great reviews upon their return is what makes this husband and wife team work. The Henkens are humbled as the reviews continue to grow and recently reached over the 100 mark on Google.
Wiki Park n Shuttle LLC, established March 2011
4770 Pacific Hwy.
Bellingham, WA 98226
1.888.233.5523
wikiwikiparknshuttle.com
facebook.com/wikiwikiparknshuttle.com
info(at)wikiwikiparknshuttle.com
Owners; Ernie & Velma Henken
About Wiki Wiki Park n Shuttle:
Once Alaska Airlines announced direct flights to Honolulu from the Bellingham International Airport in the beginning of this year, Ernie and Velma Henken decided this was a good time to introduce a safe, gated and fenced off-site parking area with a tropical theme and cater to such travelers. From their own experience of traveling, the where to find parking... how to get luggage from point A to point B, deal with traffic and uncertainties... or even running a little behind can make traveling somewhat stressful and hard work. Wiki Wiki Park n Shuttle's goal is to take this stress away... and offer a relaxed atmosphere with added fun... ladies receive a silk lei, everyone is offered a family-friendly Hawaiian Mai Tai beverage as Ernie shares a few stories including a small legend. Once the travelers board the Wiki Wiki Shuttle, they are serenaded with Hawaiian music right to the departure curb at the airport.
Upon the traveler's return, the Wiki Wiki Shuttle is waiting at the curbside anxiously waiting to hear of the recent vacation highlights. Once back at the parking facility approximately 3 miles distance on the frontage road of the Interstate 5, fresh coffee, tea is offered as well as hot chocolate to help warm up and wake up the overnight flyers. Everyone leaves with a bottle of water to help keep the hydration up while heading for home. Offering good old fashioned service and fun is what sets Wiki Wiki Park n Shuttle apart.
###