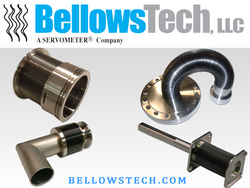 Ormond Beach, FL (PRWEB) February 4, 2011
BellowsTech, LLC, a manufacturer of edge welded metal bellows, has launched a new website focused on the visitor. A new layout offers simple navigation to find the best product for visitor needs. The product page features multiple ways to find edge welded bellows per the customer requirement. Since material, type, and custom requirements are all be factors in the selection of bellows, BellowsTech allows the user to browse by each category.
Each individual product page features the overview and specifications to permit prospective and existing customers to design configure a product to their needs. Rather than long, cumbersome contact forms, a brief contact form on each page is simple enough to communicate with BellowsTech. In addition, having the contact form on the page keeps the visitor from losing the information they already found when trying to contact BellowTech.
BellowsTech edge welded bellows are used in a variety of applications. The website features some of the more popular applications to display expertise in certain markets as well as spark innovation for the visitors. The Applications Page includes aerospace, medical, oil and gas, and semiconductor bellows specific pages to explain how BellowsTech supports certain markets.
News and Events will be frequently published on the BellowsTech website. In order to keep new and existing customer apprised of the latest offerings from BellowsTech, the website will publish all trade shows and news releases.
For more information, visit http://www.bellowstech.com
###