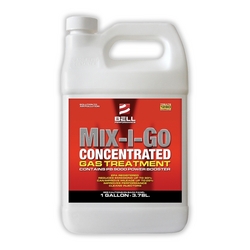 Ethanol is not a problem if you use Bell MIX-I-GO and Marine MXO.
Longwood, Fl (PRWEB) October 6, 2010
With the government's proposed mandate that all gasolines use up to 15% ethanol, are you ready for the switch? Using a highly advanced formula developed first for car engines, Bell Performance's MIX-I-GO and Marine MXO are the first products on the market to tackle the ethanol problem in fuel. The marine engine, like the car engine, is constantly under the threat of water entering the fuel system, which could cause a major and costly breakdown.
The ethanol molecule pulls water right out of the air, leading to Phase Separation - basically meaning that it collects water and breaks apart (separates) instead of the water simply dispersing throughout the entire fuel tank. The water sinks to the bottom and strips the octane out of the gasoline layer on top. This separation leads to loss in performance and ultimately engine failure. MIX-I-GO and Marine MXO control water build up by dispersing water molecules throughout the fuel source and safely eliminating them through the filter. "You need more than just a water disperser", says Glenn Williams, President of Bell Performance. "You need a product with: a combustion and horsepower improver, a water dispersing agent (non-alcohol) to remove the water from the tanks, and an ingredient to protect the rubber and plastic engine parts from ethanol damage."
For more information how you can solve your ethanol problems in fuel, or if have questions about the Bell Performance line of products visit http://www.bellperformance.com or call 407-831-5021.
##