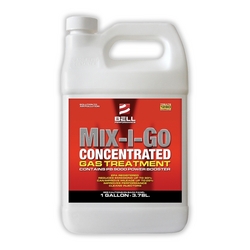 "Using the knowledge of our on-staff ASE Certified Master Mechanic and Technical Team we found new ways to save the consumer money driving this month."
Longwood, FL (PRWEB) April 13, 2011
Bell Performance, the world's first fuel additives manufacturer in recognition of National Car Care Month, announces their "Top 10 Car Care Tips" and products to save the consumer money.
ASE certified master mechanic James Dunst commented, "We are focusing on two of our products Bell MIX-I-GO and Bell X-tra Lube. This is a simple but complete package." Bell Performance MIX-I-GO is the long-time multi-function car care treatment that improves vehicle performance, condition of the engine and fuel system. X-tra Lube is solution to your engine specific problems of lubrication and wear. Dunst states, "Using both of these products together will significantly increase your engine's life span and get your car ready for the summer driving season."
MIX-I-GO is formulated to:

Reduce fuel consumption
Extend spark plug life
Clean fuel injectors, and carburetors
Remove carbon and gum deposits
X-tra Lube is formulated to:

Reduce friction and wear
Increase mileage and performance
Reduce emissions
Bell Performance has also released their "Top Ten Car Care Tips" for the month of April. Using their extensive knowledge of the market and some advantages consumers might not notice this list covers the essentials of keeping your car in shape for the summer driving season. "We decided to release a list of our best tips because we want the consumer to know just as much about their cars as we do," Glenn Williams, President of Bell Performance explained. "Using the knowledge of our on-staff ASE certified master mechanic and technical team we found ways to save the consumer money this month." This list of tips and other helpful resources can be found at our website http://www.wefixfuel.com. Bell Performance is committed to being a resource for all of your car engine and performance needs.
For information on how to protect your car, get updates on important car care products, or information on the Bell Performance line of products visit http://www.bellperformance.com, http://www.wefixfuel.com or call 407-831-5021.
###