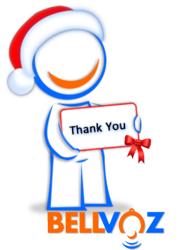 It's been a great year and we only have our customers to thank. We look forward to an even better 2013 and are extremely honored to be able to serve each and every customer by providing them with the best call quality to call their loved ones back home
Miramar, FL (PRWEB) December 26, 2012
BellVoz, a leading provider of telecommunications services that offers domestic and international long distance calls that help connect residents and corporate clients around the world, wants to thank their new and loyal customers for a remarkable 2012 year. BellVoz doubled their infrastructure capacity to attend the new database of customers and increase the reliability of their calls in 2012 and predicts that 2013 will be a prosperous year.
At the beginning of 2012, BellVoz announced their launch of their redesigned website, http://www.BellVoz.com, that included easy to find plans - international long distance calling plans that will bring true benefits of choice, value and quality to Cuba, Colombia, Costa Rica, El Salvador, Guatemala, Honduras and Panama and more than 120 more countries. It also introduced a new Central America international long distance 30 day minute plan designed for US customers who call Panama, Guatemala and Costa Rica, saving them money compared to paying by the minute.
Customers were always able to recharge their accounts by login to http://www.BellVoz.com, through the automated phone payment system , or by calling a toll-free number +1(800)856-3205 talk to a customer care representative but in 2012 BellVoz offered two new convenient payment methods for their customer to recharge their accounts 24 hours, 7 days a week: interactive SMS and auto recharge. Interactive SMS (text message), automatically validates their account and then, the customer can choose by texting the number 1 or 2 (1 is to add funds to their account and 2 is to recharge international mobile phones). Then customer will be guided thru a series of simple steps thru text messages. Auto recharge for international mobile Top-Up, allows customer to automatically send mobile credits to loved ones internationally when a promotion occurs, such as Double Cubacel Promotion.
Later in the year, BellVoz proudly announced the launch of its new mobile website application available for Android and IPhone users at http://www.BellVoz.com. The new mobile website offers quick and easy access to create an account and to recharge current customers' account for their international calls, recharge international cellphones and/ or send international text message needs.
"It's been a great year and we only have our customers to thank. We look forward to an even better 2013 and are extremely honored to be able to serve each and every customer by providing them with the best call quality to call their loved ones back home," said President Juan Carlos Castañeda
In 2013 BellVoz will increase their brand exposure via greater emphasis on applications, and through greater referral incentives offered to their already existing loyal customers. BellVoz intends to continue to offer their plans and offer better service in the year 2013. This includes, but is not limited to, Mobile Top Up service, prepaid international calling service, Pinless, virtual numbers service, and international direct text messages.
Stay connected with BellVoz by visiting BellVoz's Facebook, Twitter or Youtube account.
About BellVoz
BellVoz LLC., is a leading provider of telecommunications services connecting residents and corporate clients around the world. BellVoz was founded in 2008 and is headquartered in Miramar, Florida. It aims to offer the highest quality of service, maximum convenience and some of the lowest rates on the market. BellVoz aims to offer its tailor-made services and solutions to the end-user. For more information about BellVoz call +1(800)856-3205.
###