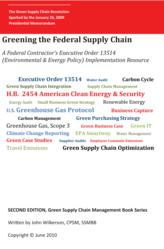 Our software solution has been implemented in several federal agencies over the past couple of years with outstanding results
Atlanta, GA (PRWEB) November 10, 2008
Bellwether Services, a leading Spend Management and Lean Six Sigma Consultancy and Training Firm with a broad government and private sector customer base announces its latest initiative to reduce cost spending in the Federal Government market place.
Federal agencies such as; Government Service Administration (GSA), Department of Energy (DOE), Department of Commerce (DOC), and Department of State (DOS) have multiple and complex Enterprise Resource Planning (ERP) and legacy systems. The innovative Bellwether solution will include integrating the various inputs into one enterprise level format and then following the proven seven-step process model.
"Our software solution has been implemented in several federal agencies over the past couple of years with outstanding results," says John Wilkerson, CPSM, SSMBB, Executive Director, Bellwether Servies. "We understand the difficult and complex environment that contracting officials are experiencing during the current related personnel shortage."
Wilkerson continues, "We understand the concerns of Program Executives in the execution of their mission, and our solution meets both Program and Contracting requirements."
A typical Bellwether Services Spend Management client solution takes less than 120 days for a moderately complex customer. An actionable spend management implementation plan includes four major topics:

"Create Spend Visibility"
Lean Six Sigma Project Selection
Short Term Project Execution (Including Social-Economic Program ROI)
Long Term Cost Savings Generation.
About Bellwether:
An internationally recognized, lean six sigma, environmental supply chain, spend management, and quality audit solution provider, Bellwether is dedicated to numerous industries such as: aerospace, automotive, beverage, call centers, chemical, consumer products, Department of Defense, Department of Homeland Security, food, importers, medical devices, pharmaceutical, public health, telecommunications, sales centers, transportation and warehousing companies.
Founded in 2001 as Consult Quality, LLC, Bellwether is certified as a Minority Business Enterprise, Service Disabled Veteran Owned Business, and Small Business Administration 8(a) consulting firm. Headquartered in Atlanta, Bellwether's affiliates are located throughout Georgia, Alabama, California, Colorado, Illinois, Indiana, Kansas, Kentucky, Maryland, and Virginia.
For more details about other Bellwether Services solutions view our website http://www.bellwether-services.com or call 404.386.2437.
Contact:
John Wilkerson
sales at bellwether-services..com
http://www.bellwether-services.com/company.html
404.386.2437
"Our Mantra- Believe, Execute, Achieve"
###