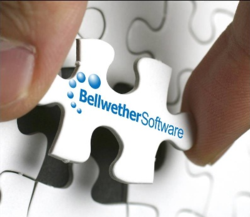 organizations look to our experience when they need to implement company-wide spend controls
Louisville, KY (PRWEB) April 21, 2011
Bellwether Software, developer of procurement software and online spend management solutions continued its recent growth trends by achieving its strongest quarter in its impressive 26-year history.
Bellwether continues to focus on its core business:helping organizations save money by cutting costs, eliminating wasteful spending and reducing manual processes. Bellwether Software maintains a commitment to develop an application for the end-user that is both powerful and easy.
Some of the highlights of Bellwether's strong quarter included 11 new corporate clients such as Coosal's Construction, GTM Sportswear, and Monroe Community Hospital. In total, Bellwether added over 5500 new ePMX users in the first quarter from organizations in Industries from Biotech to Retail, Construction, Non-Profit, Insurance, Banking and Procurement.
Other key Q1 facts for Bellwether:
Revenue Growth Year-over-Year: 125%
Q1 Sales by delivery model: 27% Licensed, 73% SaaS (Software-as-a-Service)
Existing Windows Client conversions to Web-based ePMX: 19
"Spend management in today's business environment is an essential element contributing to a company's success and sustainability, and the organizations leading their respective industries understand this," said Wade Davis, VP of Business Development for Bellwether Software. " Our ongoing growth underscores the fact that Bellwether continues to be a leader in the Procurement Software Industry, and that organizations look to our experience when they need to implement company-wide spend controls."
Bellwether Continues to expand its growth with its web-based purchasing management solution: ePMX. Bellwether recently released a significant upgrade to their popular online procurement solution-- Version 13. "We consider Version 13 a big step for ePMX, and the long-term strategy of Bellwether Software. We endeavor to have each release meet two criteria: first, we want the release to significantly add more value to our clients, and second, any enhancement should take fewer steps to accomplish a task." explains National Sales Director, Ross Bobenmoyer. "We have accomplished this with version 13, and we are excited about future releases coming soon."
About Bellwether Software
For more than 26 years, Bellwether Software has been specializing in software and web-based applications that automate business processes for small to large organizations. What Bellwether brings to organizations is an invaluable experience in identifying areas that cost you money every day: poor controls, slow processes, maverick spending and human error. With Bellwether's web based solutions combined with our experienced team, you will have the tools and resources to realize immediate cost savings with smooth implementation, along with a professional and unparalleled procurement support experience. Bellwether ePMX modules include Purchasing, Requisitions, Receiving, Quotations/Bid Management, Inventory, Asset Management and Invoice approvals.
###