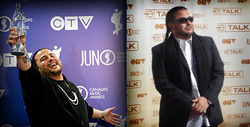 The only thing they're going to seize from my house or studio are plaques from my music. That studio (a big garage) is a place of business. They left the house ransacked. They broke down the doors, there's glass broken.
(PRWEB) August 19, 2008
The Ottawa police department's guns and gangs unit, along with a tactical squad, a K-9 unit and an OPP weapons section, stormed the Ottawa home of self-styled "gangsta-rapper" Belly on Friday afternoon only to turn up three BB guns he got from Canadian Tire.
Needless to say, the police didn't bother seizing them, let alone lay any criminal charges against Ahmad Balshe, aka Belly. They also found a perfectly legal bullet-proof vest and didn't seize it either.
"They came in and broke down my doors as if I was making weapons of mass destruction. The only thing I'm making here is music and hits," the 24-year-old Juno Award winner said.
"The only thing they're going to seize from my house or studio are plaques from my music. That studio (a big garage) is a place of business. They left the house ransacked. They broke down the doors, there's glass broken."
Remarkably, the "gangsta rapper" based in peaceful Greely, told the Citizen yesterday that he was "happy" the police raided his home. Now, he said, the neighbours will finally know he doesn't have anything to hide, and that his life is a world away from the crime-ridden neighbourhoods he grew up in, places like Ledbury in Ottawa's south end.
"I don't want to go hard on the cops. It was a waste of Ottawa taxpayers' money, but now my neighbours can see that I don't have anything to hide. They were probably just doing their jobs, but I'd like to know about these tips they're acting on."
The Provincial Weapons Enforcement Unit, which executed the search warrant with the assistance of Ottawa police, could not be reached for comment on Saturday.
Belly, on his way to another performance Saturday night in Montreal, said he worked hard to escape bad neighbourhoods and is proud to live in quiet Greely.
"I love and respect my neighbours and now after this all happens they're probably looking down on me. The next time the cops want to come in, they should ask me and I will say, 'You can come into my house. I'll walk you in to prove to you I've got nothing to hide'." (No one was home at 3 p.m. Friday when police searched the house.)
"It's bull-xxxx. I can't think of any other word for it," he said.
The singer, who has backed up Snoop Dogg, said he keeps the bullet-proof vest "for any situations that may arise, but if a situation doesn't arrive, it stays in my closet."
He had the doors fixed right away because, he said, after the police broke them down, they left them unlocked when he was out of town.
Belly, a controversial artist who calls himself Canada's first gangsta rapper, has lived in the two-storey brick home for more than two years.
To the people who live in the neighbourhood, the residence is simply known as "Belly's House."
The neighbourhood is anything but big-city or bad-xxx.
Saturday in his next-door neighbours' backyard, there was a kiddie pool and two golden retrievers.
Down the street, middle-aged men were tending to their front lawns with weedwackers and ride-on mowers.
Little girls were playing on the side of the road leading to his house.
Inside the home's foyer, a metallic Capital Prophets logo - the name of the independent record company where Belly is a vice-president - greets visitors who step through his front door.
At least one neighbour isn't so fond of his presence and Hollywood lifestyle.
Peggy Kelly said she was "not surprised" police had visited Belly's home.
She said the blinds are "always drawn" and that she has complained several times about the activities at the residence.
But even a search warrant turned up nothing wrong.
Belly was born in the Middle East and moved to Canada when he was a child. In a few short years, he has seen much success since launching a career as a solo artist.
His debut album, Revolution, won a Juno Award for the best rap recording of the year.
He has toured with Snoop Dogg, performed at the MuchMusic Video Awards, and penned the Senators anthem Go Sens Go, the year the team went for it all in the Stanley Cup final.
Before that, he wrote several songs for R&B artist Massari -- including the hits Smile for Me, Be Easy and Rush the Floor.
If anyone is wondering why he has BB guns, well, like a lot of Canadian boys, he likes to "mess around" and shoot at targets down in the basement.
"I have a big basement."
###