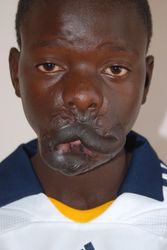 Never before have I witnessed such a dramatic change in a persons face, and I've done thousands of these types of surgeries.
Lake Forest, CA (PRWEB) September 18, 2008
Lake Forest, CA (PRWEB) September 19, 2008 People Magazine (September 22nd Edition) on newsstands now features a 7 page article about Beloved, a Zimbabwean youth who lost half his face to a landmine when he reached for what he thought was a transistor radio lying half-buried in his Grandmother's field, is truly an inspiration -- from the rejection he endured living with a horribly distorted face for six years, to his hope of regaining a normal life. His American "Mom" Jennifer Trubenbach, Executive Director of Operation of Hope from Orange County, California, took out a second mortgage on her home to pay for Beloved's $180,000.00 hospital costs when funds fell through just 24 hours before his surgery. (Surgeons donated their services).
He has been given back his long-lost smile thanks to the volunteer surgical team Operation of Hope and Dr. Keith Blackwell, UCLA Medical Center and Dr. Babak Azizzadeh. What makes this case so unique along side the thousands of other children the team has helped, is rarely do you find someone who lives after a land-mind detonates inside their mouth.
Operation of Hope has provided free cosmetic and reconstructive surgery through to underprivileged children and young adults like Beloved in third-world countries across the globe since 1989. "Too often, by birth or accident, the lives of youth like Beloved's are radically changed because of facial disfigurations. Many never seek treatment, often believing that it's too late for reconstructive surgery "There is nothing more rewarding for me than seeing the incredible, life-changing transformation reconstructive surgery can make says Dr. Azizzadeh, one of the fifteen medical personnel that donated their talent and time to give Beloved the opportunity to once again look normal.
In October of 2006, Operation of Hope was in Zimbabwe offering free surgeries for very poor families of children born with facial deformities such as cleft-lips and cleft-palates. Beloved came to the hospital with his head hung very low and rarely made eye contact. Executive Director Jennifer Trubenbach and Founder Dr. Joseph Clawson discussed the unusual case and decided the surgery, would have to be performed in the US due to the highly sophisticated instruments that were not available in Zimbabwe.
In a span of a year, Beloved's passport and visa were cleared, extensive medical and dental exams were taken, and then Beloved was flown to California where Dr. Keith Blackwell of UCLA Medical Center and Dr. Babak Azizzadeh would perform the highly emotional and successful surgery. Dr. Keith Blackwell, known as one of the best free-flap surgeons in the world, was taken back by how well the procedure went. "Never before have I witnessed such a dramatic change in a persons face, and I've done thousands of these types of surgeries."
After the surgery, Beloved lived with Jennifer Trubenbach and her family for 6 months during the slow recovery. Beloved eventually enrolled in school, played soccer, learned how to iron, how to use a washer and dryer, watched T.V. like others his age and learned how dramatically different life can be in the US.
Six months after the surgery, Beloved flew back with Operation of Hope as the team looked to complete their third mission at the Harare Central Children's Hospital. At the hospital, friends and family of Beloved gathered and were able to see the new face Beloved now held very high. The family celebrated, broke out in song and screamed in absolute delight. Some of the elders slowly walked up to Beloved and stared at his new face with their jaws dropped in pure amazement, as if a little magic had been sprinkled on him. This is all just fine for Dr. Clawson who founded Operation of Hope over 20 years ago. "Like many of the children we see, we had to roll up our sleeves and help this kid even if the funding wasn't secured. It was the right thing to do. Hopefully people will recognize this and donate in support of the action we had to take." Beloved is now the young man he was always destined to become."
For additional information, contact
Jennifer Trubenbach, Exec. Director of Operation of Hope
Operation of Hope
949 463 1795
http://www.operationofhope.org
jtrubenbach(at)cox.net
###