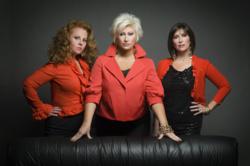 Women get a great feeling from looking beautiful and that helps with their inner beauty.
Atlanta, GA (PRWEB) October 27, 2011
With music sales taking a down turn, in part due to the economy and the prevalence of free music sites, recording artists are having to find new avenues for revenue. Artists have been driven to tour more frequently and longer in order to stay afloat during this rough bump in the road the music industry is experiencing. Some of today's biggest stars have found success in launching clothing lines, jewelry and fragrances. These artist can not only be found in the pop arena but the trend is also popular with country artists like Faith Hill, Taylor Swift and Shania Twain. Independent recording artist Beloved have taken this even a step further with their own make-up line. While the subject is somewhat slightly still taboo in the faith based market which puts so much importance on inner beauty, the group's Beloved Beauty has been embraced with open arms. CEO and co-founder of Beloved Beauty, Kim Gravel explains, "The church encourages people to focus so much on inner beauty, which is great, but it doesn't mean you have to ignore and neglect the outside. Women get a great feeling from looking beautiful and that helps with their inner beauty. We meet so many ladies at our conferences and performances that lack that confidence and pride that comes with feeling beautiful."
Through this new venture, the group is introducing themselves to a new audience who might not hear the music first but actually wear the make-up and then try out the music. During this uncertain time in the music industry, groups like Beloved are stepping outside the box while hopefully making people feel as good as if they were listening to one of their songs.
Beloved Beauty cosmetics are the first to reach out deliberately to the faith-based market. Instead of a typical mall or store setting, the cosmetics are brought directly to women's conferences and churches around the country. Beauty tips and secrets are doled out to an eager crowd that might otherwise feel uncomfortable being worked on by the mall's latest glamazons. At these events each woman is given individual attention and a private consultation, if desired. The Beloved Beauty conferences have been so wildly successful, many operating at sold-out capacity, not only because of the great products but also for the uplifting message conveyed that everyone is beautiful, inside and out. The "Beloved Beauty Effect" encourages each woman to embrace who you are and do the best with what you've got. This transparent and authentic approach to beauty has women coming back time and time again for much more than a tube of lipstick. In 2012 Beloved is looking to make the Guinness Book of World Records with the largest make-over session.
About Kim Gravel:
Kim is available for radio spots and television segments as a contributor or commentator in discussions of Beloved Beauty and general women's issues. Kim competed in the Miss America pageant as Miss Georgia in 1991 and served as US Goodwill Ambassador to Japan. Kim has worked for Revlon and Christian Dior as make-up artist; served as National Cosmetology Association spokesperson; and served as a make-up artist and stylist to over 100 fashion shows and photo shoots. Kim has been speaking to and inspiring audiences for over 20 years. Her signature style that combines humor, compassion, authenticity, and relatability results in audiences feeling uplifted and empowered. Kim is also a seasoned television host and interviewer. She has logged thousands of hours as a host of award-winning talk shows "Friends & Neighbors" and "Atlanta Live". Her comfortable style and solid reputation have made her one of the most sought after interviewers in Atlanta for publicists, authors, actors and public figures. Combining her expertise skills of communication and leadership, Kim is also a certified Life Coach. Kim works with people in large groups as well as on an individual basis. Her compassionate yet straight forward "Dr. Phil-esqe" style keeps her in high demand as a Life Coach, mentor and adviser. As lead singer and songwriter of recording group Beloved, Kim entertains and sings to thousands across the country every year, including hosting the sold-out Beloved women's conference annually in Atlanta. Kim has been managing people and projects for many years in the corporate world in the area of cosmetics, property management and construction. Even with all her business endeavors, she still finds time to raise her two boys, Beau and Blanton with husband Travis. Kim is represented by New York based N.S. Bienstock, Inc. talent agency; Agents Adam Leibner and Samantha Marpe.
# # #