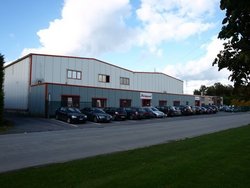 Kruishoutem, Belgium (PRWEB) July 20, 2009
Belspeed, the Belgium based third party logistics company, has catered to the international fashion elite for twenty five years. The company has been instrumental in handling the logistics, supply chain management, importing, exporting, customs formalities, warehousing and deliveries for many of the world's leading fashion brands throughout Europe and emerging markets. Outsourcing these operations allows brands to grow globally beyond what they might be able to achieve independently.
Over the past three years, the 3PL company has grown consecutively 20% each year. The first two quarters of 2009 show an increase of 12% volume compared to the same period in 2008. Belspeed has achieved award-winning growth by retaining successful fashion leaders as customers, expanding the client base, updating software, systems and service offerings. The dedication, innovation and dynamism of the owners, managers and staff have proven to be major keys to the company's continued growth and success.
Belspeed's full-service internet fulfillment center has grown by over 70% in the first six months of 2009 compared to same period figures for 2008.
Belspeed was filmed for a segment of The Economic Report about pioneers in fashion logistics as part of the show's Doing Business in a Global Economy series. The show airs on CNN and local cable networks throughout American markets as well as on http://www.youtube.com. http://www.youtube.com/watch?v=IHe0iJQs4kE
About Belspeed: Belspeed has been the fashion industry's "logistical" solution for twenty five years. Responsible for the secure, on-time delivery of millions of garments -- shipped by sea and air from factories and manufacturing warehouses worldwide to distributors and retailers -- throughout the European Union and emerging markets. Belspeed offers custom made solutions to meet each client's unique logistics and transportation demands.
For further information, please visit http://www.belspeed.eu or contact:
Victoria Dahan, Creative & Public Relations Director, Belspeed SA/NV
1.310.864.9588
###