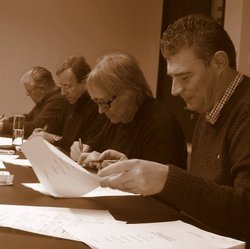 Brussels, Belgium (PRWEB) March 1, 2010
In recognition of ten years of leadership and dedication to Belspeed, Philippe Desmedt was offered a partnership in the Belgium based logistics and distribution company that serves the fashion elite.
Gary Dahan (on behalf of Caldan Worldwide), Jean Brandt and Charles Lambert happily welcomed Desmedt as a partner when they signed the formal agreements.
Desmedt joined Belspeed in April 2000 to open the full service logistics branch of the fashion transport and distribution company.
Specialized in total logistics solutions and global importation to Europe and emerging markets, Belspeed has become the platform that many of the world's leading fashion brands rely upon to expand their businesses throughout Europe, Russia and the Middle East.
# # #