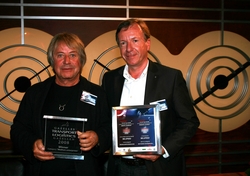 Brussels, Belgium (PRWEB) October 8, 2008
At the annual Gazelles Transport & Logistics event, Belspeed NV/SA won the prestigious first prize for being the most important midsize Belgian transportation and logistics enterprise in 2008.
Belgium is a major European hub for international transport and logistics. The importance of this industry is evidenced by the awards ceremony hosted by Trends Magazine and Transportmedia, based on Top Trends 30,000. The show is supported by Easyfairs, Stow and Still. This event honors reputable, progressive transport and logistics companies that are part of the 30,000 leading businesses out of approximately 200,000 rated firms in Belgium. The information is gathered from Belgium banking and financial societies. The selection process for the award is based on growth within the past five years, number of employees, cash flow, social criteria and annual financial turnover. The top performers are aptly named "gazelles" to represent the rapid growth they are achieving.
In attendance at the event were many of the most influential logistics leaders in Belgium. Owners Charles Lambert and Gary Dahan proudly accepted the award on behalf of their third partner, Jean Brandt and the entire Belspeed team.
The international logistics company to the fashion stars has grown significantly in the past few years and anticipates additional growth in the year ahead. The synergy and dynamism of the partners, the efficient management team and hard working staff are the keys to the Belspeed "magic", as they passionately refer to it. Serving leading contemporary fashion brands with promptness, personal care and precision has fueled the company's intense growth. They offer their clients a full service logistics package from factories and manufacturers worldwide to distributors and retailers inside and outside the European Union, Russia and the Middle East. Belspeed customizes their services to fit the individual logistic needs of each client, just like a fine couturier would do with a beautiful dress or suit.
About Belspeed: Belspeed has been providing excellent international logistics to the fashion elite for twenty-five years. Responsible for the secure, on time delivery of millions of garments--shipped by sea and air from factories and manufacturing warehouses worldwide to distributors and retailers--throughout the European Union and emerging markets. Hanging and flat-packed, picked and packed, or full bulk shipments are handled and delivered with streamlined precision, personal attention, integrity and efficiency. Belspeed offers value-added services, including but certainly not limited to bonded customs warehousing, bar code labeling, invoicing, online inventory control, cross docking, door to door deliveries.
Belspeed is fashion's logistical solution.
For additional information about the news, company or people in this release, please contact:
Victoria Dahan
Director of Public Relations
Belspeed NV/SA
+1-310-864-9588
press@belspeed.eu or victoria.dahan@belspeed.eu
http://www.belspeed.eu
*Photo courtesy Georges De Coster, Transportmedia
###