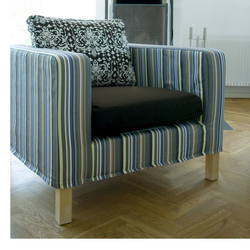 Mix and Match lets consumers express their personality and individuality in their home.
Woodside, Calif. (Vocus) October 31, 2007
Bemz, the Swedish company that breathes new life into IKEA sofas and chairs, is now offering a Mix and Match service for its trendy, practical slipcovers. Custom sofa detailing is starting to appear in the work of the most famous industrial designers, and high-end sofas covered with carefully matched, different fabrics are available at specialty stores--but at a price.
With the new Mix and Match system at Bemz.com, it's easy to design a personalized slipcover ensemble to reflect one's own unique style and décor--without spending a fortune. The frame, seat cushion and back cushion can be ordered with any of the fabrics that are part of the different palettes from the Mix and Match collection.
Using Mix and Match is as easy as 1-2-3
1. Go to the special Mix and Match Collections page to view the six different palettes of multiple colors and patterns that are offered. A special zoom function feature lets you see the fabrics at high resolution.
2. Then, use the interactive Mix and Match system and choose your sofa from the pop-up menu. Currently, Mix and Match is available for the Tomelilla and Karlanda sofas.
3. Now, select a palette, and then drag-and-drop any fabric onto the frame, seat cushion or back cushion of the sofa. Experiment. Be bold. Have fun! Once you've got your look figured out, add it to the cart.
The Mix and Match collection is available in a mix of 100% cotton and a luxurious linen/cotton blend. All Bemz fabrics have been specially selected for their quality, fine finish and durability. To prevent shrinkage the fabric is Sanforized, and all Bemz covers are machine washable. Returns are free, and shipping charges are minimal. Pricing for Mix and Match starts at $368.98.
Bemz is great for the millions of people who love their IKEA sofa, armchair or barstool, but wish there was a way to give it a new look -- and to extend its life. "There are millions of IKEA sofas that could use a refresh, and a custom, designer slipcover is a really cost-effective way to do that," says Bemz CEO Lesley Pennington. "Mix and Match lets consumers express their personality and individuality in their home."
Try before you buy
Consumers can preview their fabric selection on any of the IKEA sofas or armchairs, and Bemz will send swatches of any fabric at no charge. For shoppers considering a new IKEA sofa, Pennington recommends they order it without a slipcover and then add a Bemz slipcover: "Why have the same sofa or armchair as others when you can add a unique and original design element to your home? Some of our customers even purchase two or three sets of different slipcovers so they can match the look of their room to a particular season."
A wide range of colors and styles, organized by themes
The entire line of Bemz slipcovers is machine-washable and designed especially for IKEA furniture--even sofas that IKEA has discontinued. Bemz offers various collections of patterns and colors, sorted by http://www.bemz.com/themes/ themes to suit any environment or style. Prices start at $43 (for the IKEA PS chair).
Notes to editors
A wide selection of camera-ready artwork is available here: http://www.bemz.com/pressimages.html. Updated pricing and availability information is published at http://www.bemz.com.
About Bemz:
Bemz, located in Stockholm, Sweden, designs and sells inspirational, stylish and washable slipcovers for sofas, armchairs, barstools and cushions. Slipcovers are available to fit most popular models of IKEA sofas and chairs, including discontinued models. To order, visit http://www.bemz.com.
Contact: Tim Cox
Zing Public Relations
650-369-7784
###