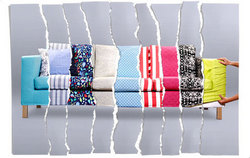 We're giving people more and more options to add style and practicality to their living and office environments, and we're responding to the needs of frugal consumers with Bemz Basiqs
Woodside, Calif. (Vocus) November 18, 2008
Bemz, the Swedish company that breathes new life into IKEA sofas and chairs, has added some stunning, new designs to its online portfolio of stylish and practical slipcover fabrics. The two new additions to the range of chenille fabrics are perfect for adding warmth this season: Chenille-Cinnabar Red and Chenille-Deep Navy Blue. Chenille is a soft cotton fabric with a velvety smooth feel that gets more comfortable with every washing -- and like all Bemz slipcovers, these are machine-washable. Static Stripe-Sage Brown also joins the 100% cotton Panama line-up, a fabric with a sturdy texture and a soft matte finish.
Also new this month: Bemz Basiq, a "shabby chic" styling in unbleached 100% cotton and featuring bows and ties instead of zippers. Bemz Basiq covers are not dyed and are available in a durable, elegant Half Panama 100% cotton natural weave in beige and ivory tones, speckled with small flecks that complement any décor. Small seed shells in the weave increase its charm factor. Bemz Basiq covers are available for the Tomelilla and Karlanda sofas and chairs; and the Nikkala, Goteborg and Ekeskog sofas.
And, effective today, Bemz now offers dozens of slipcovers for the Ekeskog sofabed.
"We're giving people more and more options to add style and practicality to their living and office environments, and we're responding to the needs of frugal consumers with Bemz Basiqs," says Lesley Pennington, who founded Bemz when she realized that millions of people are looking for a better way to enhance their IKEA furniture. "For the new Basiqs line we've created a simple, understated look that is perfect for a vacation home, the kids room, or that first apartment."
Try Before You Buy:
As always, the highly interactive Bemz website (http://www.bemz.com) is the place to go to see the new fabrics and order swatches. All Bemz fabrics have been specially selected for their quality, fine finish and durability and custom-designed for IKEA furniture--even sofas that IKEA has discontinued. To prevent shrinkage, each fabric is Sanforized, and all Bemz covers are machine washable. Consumers can preview their fabric selection on any of the IKEA sofas or armchairs, and Bemz sends swatches of any fabric at no charge. Prices start at $43 (for the IKEA PS chair) and delivery times are normally four weeks.
Useful links:
A wide selection of camera-ready artwork is available here: http://picasaweb.google.com/bemzstockholm
Updated pricing and availability information is published at http://www.bemz.com
See what's on our minds - the Bemz blog: http://bemz.typepad.com/itsacoverup/
About Bemz:
Bemz, located in Stockholm, Sweden, designs and sells inspirational, stylish and washable slipcovers for sofas, armchairs, barstools and cushions. Slipcovers are available to fit most popular models of IKEA sofas and chairs, including discontinued models. To order, visit http://www.bemz.com.
Contact: Tim Cox | Zing Public Relations | 650-369-7784 | tim @ zingpr.com
###