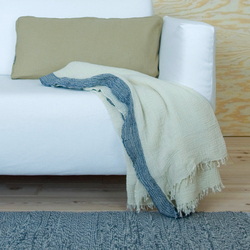 Woodside, Calif. (Vocus) April 3, 2009
Bemz, the web's best place for slipcovers that breathe new life into IKEA sofas and chairs, has added a new Lifestyle to its wide range of collections. 'Simple Life' is for people searching for a return to a simple, basic way of life through re-using, recycling and combining items--new and old--to create personal living spaces that reflect their concern for the environment.
The 'Simple Life' Lifestyle is inspired by the natural colors of stark, windswept beaches of Gotland, an island in the middle of the Baltic Sea: stone white, sand beige, and the grey-white foam of the incoming waves. These colors have been interpreted by Bemz into natural textiles with neutral, calming tones such as Ash Brown, Cloud Grey, and Soft White. 'Simple Life' is available now on the Bemz website.
New: Daybeds. For the first time, Bemz now offers daybed covers in multitudes of soft, natural colors and wonderful cotton and cotton/linen fibers. All are machine-washable for practicality and durability. All of these fabrics are available as covers for over 60 different IKEA sofa and chair models, and for cushions that match.
New: additional IKEA models. The entire range of Bemz fabrics is now available for IKEA Karlstad Corner module, the IKEA Falsterbo family, and the IKEA Stockholm chair.
Coming soon: organic cotton. Bemz is also pleased to announce new organic cotton products that are environment-friendly and machine-washable. Bemz organic cotton can be ordered in an unbleached beige tone for all IKEA models we support. This is the first in a series of upcoming organic textiles designed exclusively for Bemz. Available May 1, 2009.
Useful links
--Camera-ready artwork for 'Simple Life': http://picasaweb.google.com/bemzstockholm/SimpleLife#
--Updated pricing and availability information is published at bemz.com
--See what's on our minds:

the Bemz blog: bemz.typepad.com/itsacoverup/
Bemz @Facebook: facebook.com/pages/Bemz/47144261826
Bemz @Twitter: twitter.com/bemz
About Bemz and our products
Bemz was founded by Canadian Lesley Pennington while on maternity leave. Located in Stockholm, Sweden, Bemz designs inspirational, stylish and washable slipcovers for sofas, armchairs, barstools and cushions. All Bemz fabrics have been selected for their quality, finish and durability, and custom-designed for IKEA furniture. To prevent shrinkage, each fabric is Sanforized, and all Bemz covers are machine-washable. On the Bemz website, consumers can instantly preview their fabric selection on any of the IKEA sofas or armchairs, plus Bemz sends swatches of any fabric at no charge. Slipcovers are available to fit most popular models of IKEA sofas and chairs, including discontinued models. Prices start at US$45, CAN$49, £29, €35; delivery is normally four weeks To order, visit http://www.bemz.com.
Contact: Tim Cox | ZingPR | 650-369-7784 | tim@zingpr.com
# # #